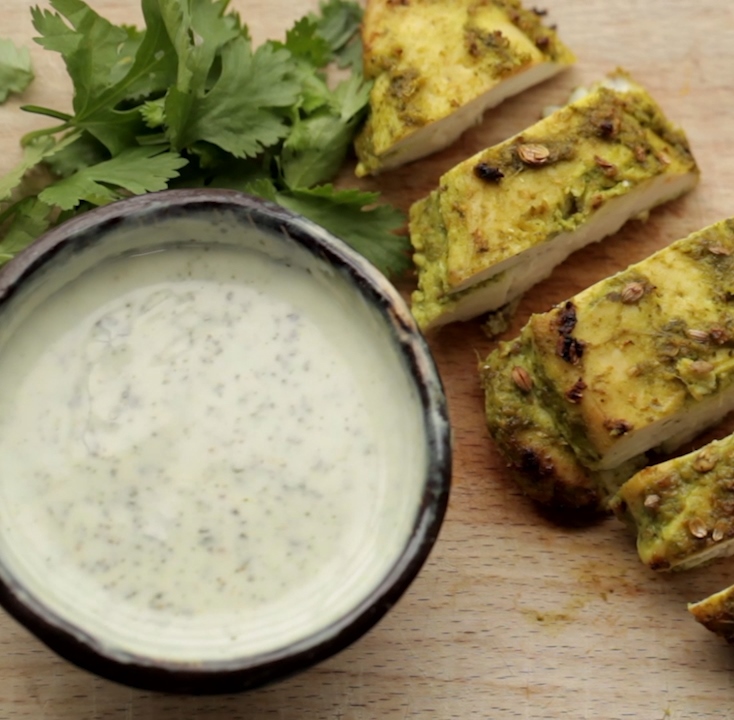 Given it is Easter weekend, I thought I would show you something you can make with any leftover dregs of mint sauce, the kind that you get in jars and is traditionally served alongside a good old English roast lamb lunch!
You will recognise this as the familiar chutney you are used to seeing accompany your poppadoms (which we call papads) in Indian restaurants. You can make it with fresh mint leaves too but this speedy version is highly popular and ubiquitous in both restaurants and homes alike.
It literally takes seconds to make, as all you do is stir. It looks very authentic served in little bowls, but little will people know how quickly you knocked it together! 
Ten-Second Yoghurt and Mint Chutney
In addition to papads, this chutney also goes perfectly with kebabs, tikkas, tandoori or fried fish, samose, pakore, chaat and other snacks. It makes a great dip too.
Some people add quite a bit of turmeric, making it pretty yellow, but you can add as much or as little as you like, or leave out altogether to keep it pale and interesting.
I sometimes make this with fresh mint leaves and a tiny touch of sugar, squeeze of lemon and a few drops of white wine vinegar whizzed together with the yoghurt in a blender or mini processor / grinder, but this is the recipe for the super fast, storecupboard version that so many of us grew up with.
Ingredients:
1 cup natural yoghurt
A little milk
1/4 teaspoon salt
1/4 teaspoon sugar (optional)
1/4 teaspoon garam masala
2 teaspoons mint sauce (the kind that comes in a jar), such as Colman's
Simply combine the yoghurt with enough milk to loosen and get it to the consistency of double cream. Add the rest of the ingredients, stir well and serve or chill it until needed.