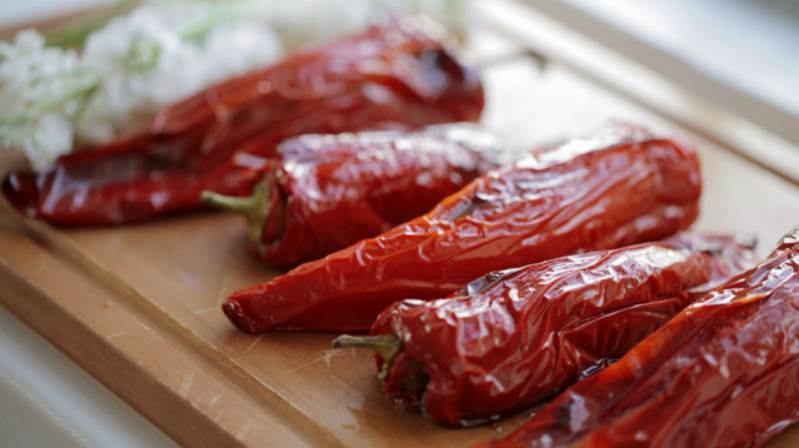 This March weather with its broad streaks of sunshine but nippy winds are making me instictively want lighter, brighter flavours but also a touch of comfort. These fit the bill perfectly and are a firm favouite. They are also a great example of how not every Indian dish is smothered in sauce…
Whole juicy peppers, sometimes in a gem-like array of colours, are gently blistered on the outside to give a smoky char and filled with a piquant, silky mash that is just bursting with the flavours of ground pomegranate, cumin, chilli, ginger and coriander. The tartness of the filling contrasts perfectly with the blushing sweetness of the peppers…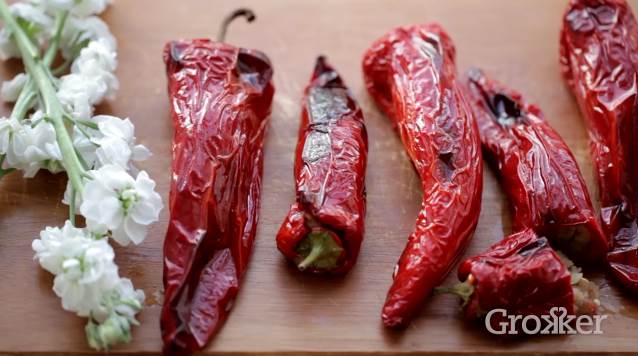 Shimla Mirch Parkhe – Charred Stuffed Peppers
(shim-laa-mirch-parr-khe)
I've used all different kinds of peppers for this dish in the past; do bear in mind that red peppers are obviously ripe, thus sweeter, whereas a green pepper will taste more savoury. I also like to use mini peppers, or the long and thin red sweet peppers that I've used here.
We traditionally eat this as a vegetable side dish, torn apart and scooped up with roti, but I love them for summer parties and barbeques too, alongside a few pitchers of icy cocktails. They look great in a heaving pile, crackling and fresh out of the oven, in some earthenware or on a board as part of a mezze-style meal.
However, I've also enjoyed them as a supper in themselves, with a little bit of green salad and mint raita on the side, and often requested by friends for TV boxset nights in.
I've used anardhana, which is ground pomegranate seed powder, as it has an amazing fruity sourness, but just use extra lime if you can't find it. I also boil the potatoes whole in their skins and then remove the flesh, as this gives you a drier, lighter, fluffier mash.
The cooking times below are for large bell peppers, so bear that in mind when cooking yours if they are considerably smaller, making sure to check and turn every 10 minutes.
Serves: 6
Ingredients:
6 large or long peppers of your choice
Olive oil, for brushing
4 medium sized potatoes
1 tbsp of oil
1 tsp cumin seeds
1 medium sized onion, finely chopped, I like to use red onion but you can use white if you prefer
1½ tsp dried red chilli flakes
2 tsp grated fresh ginger
1 tsp salt
Juice of half a lime
1 tsp garam masala
1 tsp anardhana (ground pomegranate seeds), optional
A good handful of chopped fresh coriander/cilantro including stalks
Preheat the oven to 400°F (200°C). Boil the potatoes whole, leaving the skins on, until they are soft.
Meanwhile, heat the oil in a frying pan and add the cumin seeds.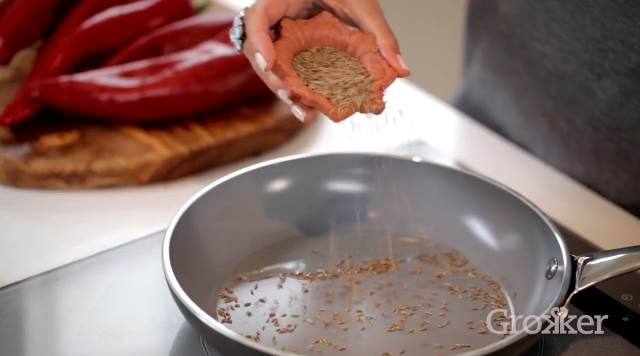 When sizzling, fry the onions until soft and translucent.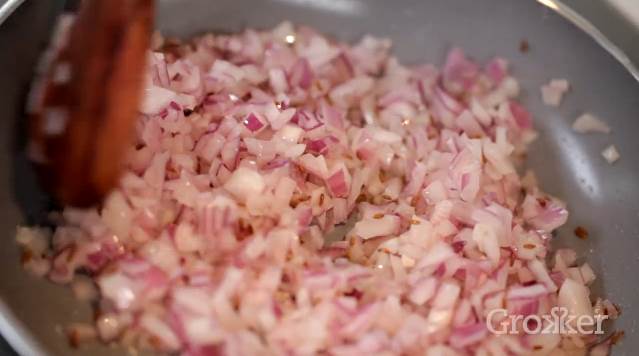 Add the chilli, ginger, salt, lime, garam masala, ground pomegranate seeds, if using, and mix well, then turn off the heat.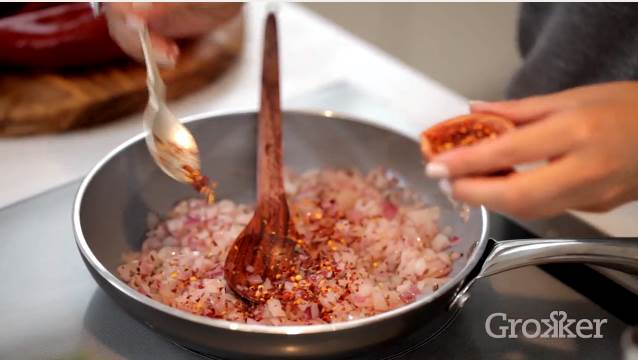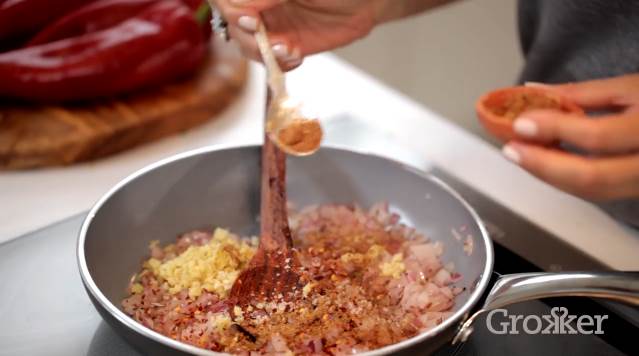 Drain the potatoes and, when cooled, use a sharp, small knife to peel the skins away and mash the flesh into a bowl with a fork. Tip the mashed potatoes straight into the pan, if large enough, or transfer everything to a large mixing bowl. Mash the mixture together with a fork.
Add the coriander and stir with the fork to mix together thoroughly. Leave to cool.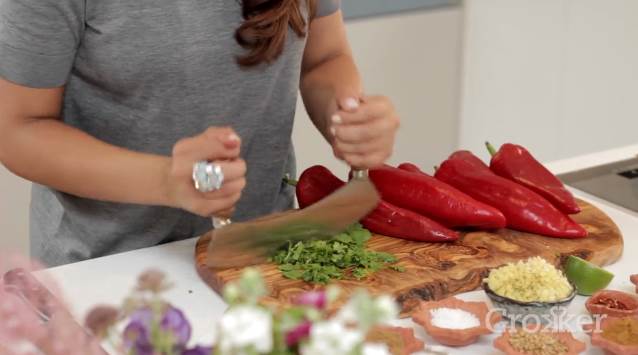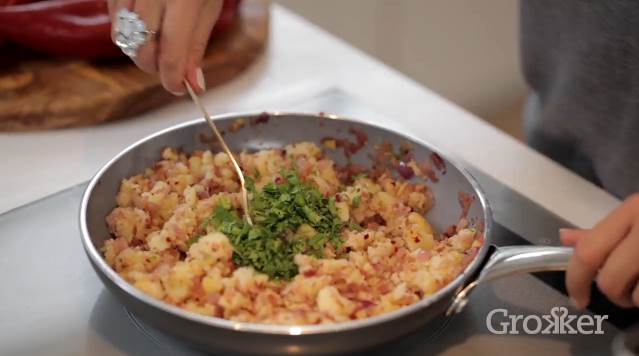 Cut out the stalks of the peppers by carefully using a small sharp paring knife to cut around them and pull them out like stoppers without tearing the flesh of the rest of the pepper. Do not discard the stalks but remove any seeds. Remove seeds from the inside of the peppers and trim away as much white membrane as possible by carefully poking in with a sharp knife.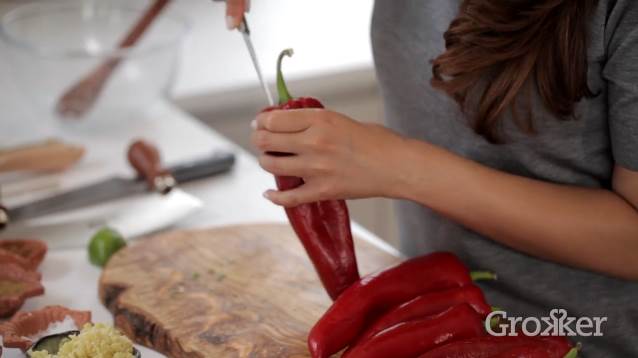 Stuff the peppers with the mixture but not right to the top, leave a gap of a couple of centimeters and use your fingers to press the mixture in. Push the stalks back in and push down into the peppers by a couple of centimeters, cleaning the edges if this pushes any filling to the surface. The heat during cooking will push the stalks back out and if there is too much filling it will leak out of the pepper into the pan. If this happens though, during cooking when you are turning them over, just gently ease the escaped filling back into the pepper, plumping them back up and place the stalk back in. But be gentle with the peppers as they will be soft and delicate when cooked, and you don't want to tear them.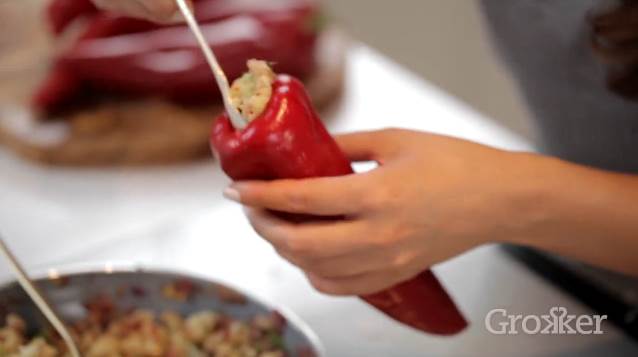 Place the peppers on a lightly oiled baking tray and brush all over with oil, including the stalks. Bake in the oven for 30 – 45 minutes, turning over every ten minutes to cook evenly.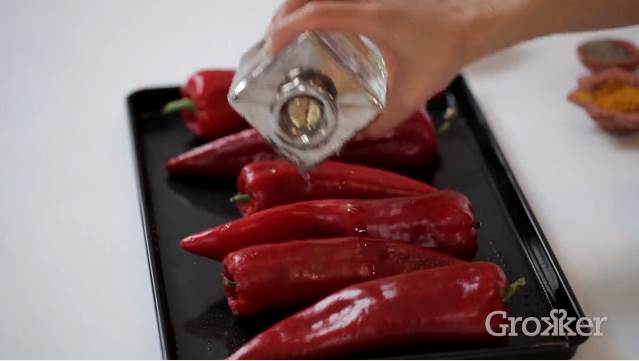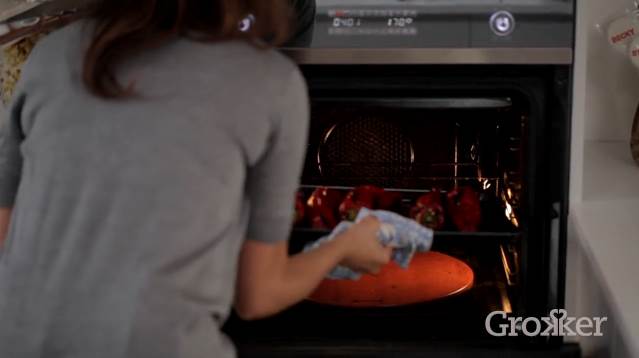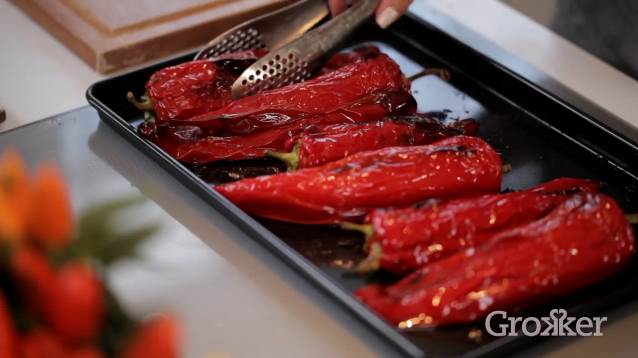 Want to see how these are made? Come to Grokker with me here to watch the video!