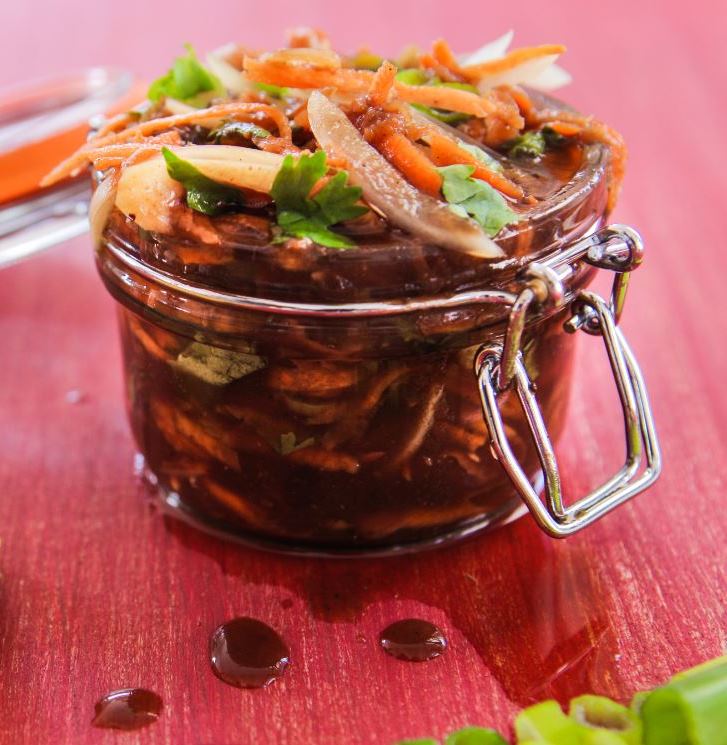 Given it is Mother's Day this weekend in the UK, it seemed only fitting that this recipe post is one that takes it right back to where that bond first began between me, my mother, food and flavours.
When my mummyji was carrying me during pregnancy, she would crave tamarind so much she would eat it torn right off the block to satisfy her sudden sour tooth. And, lo and behold, it has always been my  favourite flavour in the whole world, as I just adore its tang.
And my connections to this recipe, known to us as imli chutney, as imli is our word for tamarind, go waaay back to my early childhood, as it was the first thing I was ever entrusted to make by myself in the kitchen as a little girl, and I was known as chief chutney maker amongst my relatives…
Tamarind Chutney
(im – il – ee chat-ni)
I was so proud of the responsibility of this job of making the chutney. It made me feel terribly grown up and important. Such was my obsession that, even if I went to someone else's home and they had made it, I was always the one asked to taste it to give the seal of approval on seasoning. "More salt? sugar? masala?" they would ask, expectantly, waiting for that huge grin to break across my face when it had hit the perfect piquant note…
With its name meaning 'Hindu date' – Tamar Hind –  it isn't just the zingy sharpness that is the appeal of tamarind but also the gorgeous fruity sweetness. You can buy fresh pods if you're lucky enough to find them at an Indian or Middle-Eastern grocers, which gives a beautifully soft, mellow tartness, or you can buy blocks of the dried and compressed fruit. This is the next best thing and what we commonly use at home. They are a convenient storecupboard staple and inexpensive.
The block is then soaked in boiling water to help release and squeeze out all the luscious juices, with the softening allowing you to tease the flesh away from the stones and fibres, infusing the water.
You can also buy concentrate in tubs but I find this very intense and can sometimes be too sour, with nothing of the fragrance of the real thing. I save that for when I need just a teeny spoonful to melt into something like a pan of hot, bubbling sauce.
It is eaten as an accompaniment for our snacks, tea time treats and street food, such as samose, pakore, gol gappe, puria, and is a vital component of a little snack medley that we call chaat, served up alongside minty yoghurt and coriander chutney. Although, frankly, I can just sit and eat a mahoosive bowlful with a spoon and feel a very happy bunny. My aunt used to tear me away from consuming too much of it when I was a kid, as there is an old wive's tale that it can overstimulate female hormones. Not sure what truth there is to that, but passing it along anyway!
If you've never tried it before, the best way I can describe the taste of tamarind is by comparing it to Worcester sauce or HP sauce, both of which include it in their ingredients. In fact, Worcester sauce was invented by accident by a Brit trying desperately to recreate the mouth-watering imli chutney he had become so fond of in India during the days of the Raj. Then fermentation had its own ideas and we were graced with an entirely different, though delicious, condiment altogether.
But there is no cause for any such distress now, as below I offer you our authentic and traditional recipe for this wonderful treat.
A very happy Mothering Sunday to all the mummyjis out there. Much appreciation and gratitude for all you do xx
Ingredients:
½ x 200g (8oz) block of tamarind
3 tsp garam masala
3 tsp salt
5 tsp sugar, most people use white sugar or jaggery but I prefer dark muscovado for extra depth
4 tbsp tomato ketchup
A dash of lemon juice
2 green chillies, finely chopped
½ medium sized onion, sliced very thinly
2 carrots, peeled and grated
2 spring onions, chopped finely
A handful of chopped coriander / cilantro
A handful of sultanas (optional) – I like to use Indian green sultanas
Place the tamarind in a heatproof saucepan or bowl, cover with boiling water and leave to soak for 10 minutes.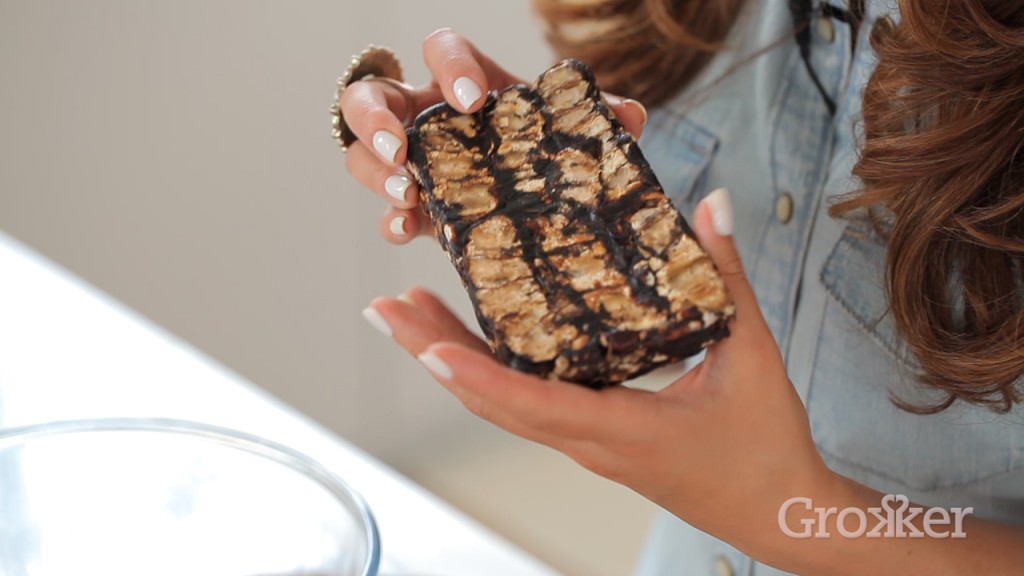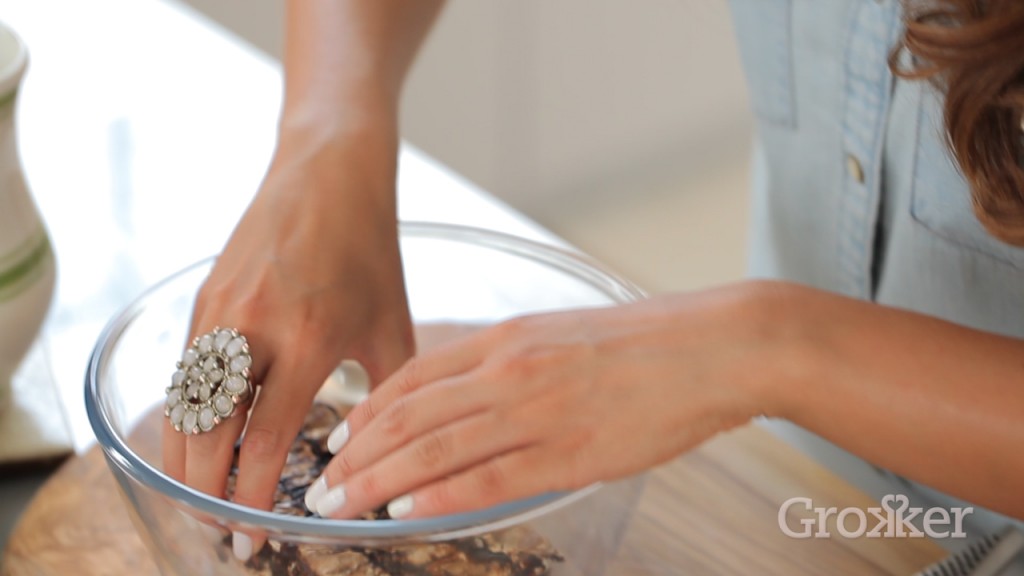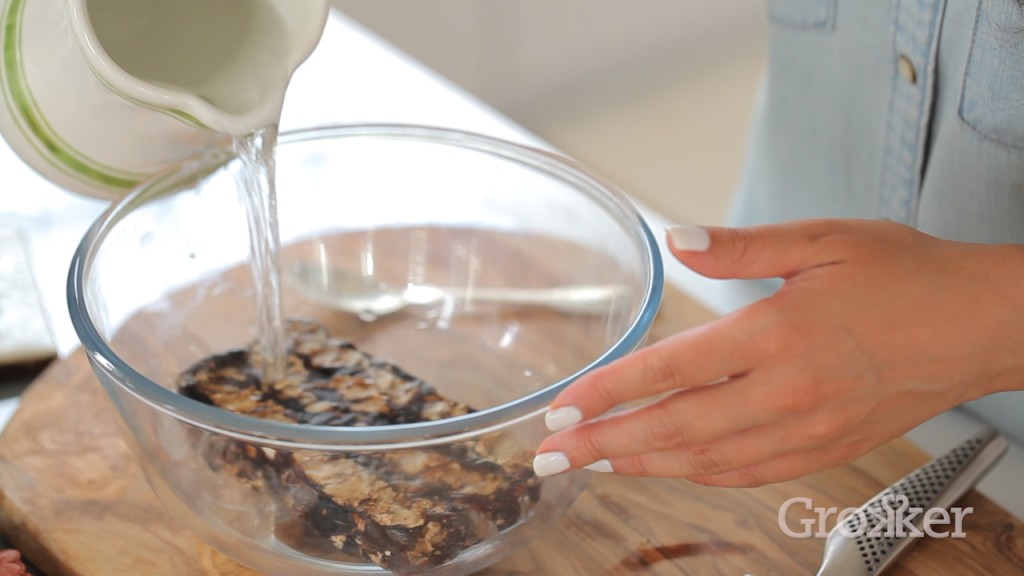 Using a spoon or fork, break the tamarind up and stir thoroughly to combine as much as possible with the water.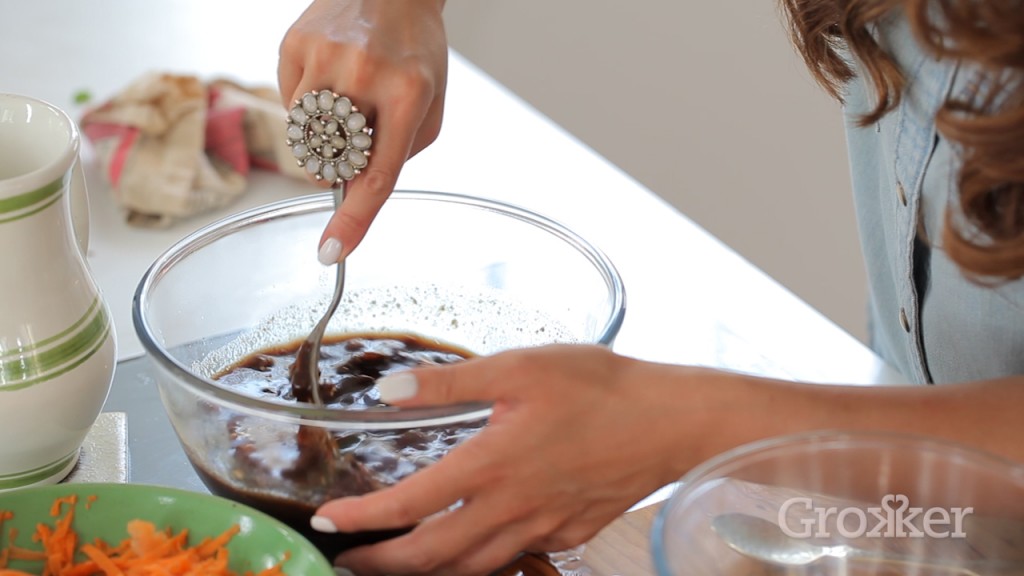 Strain the liquid through a strainer into a large mixing bowl.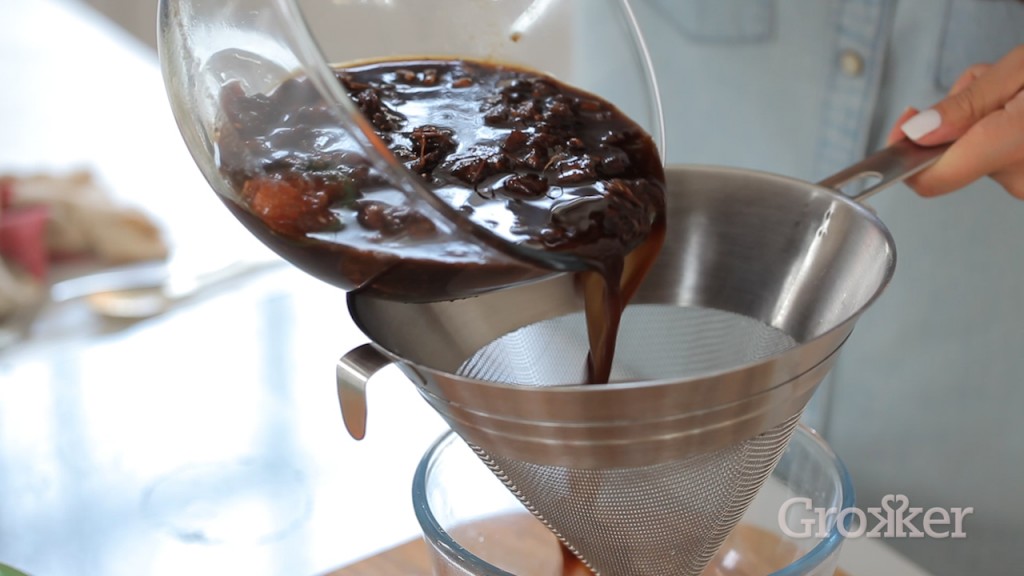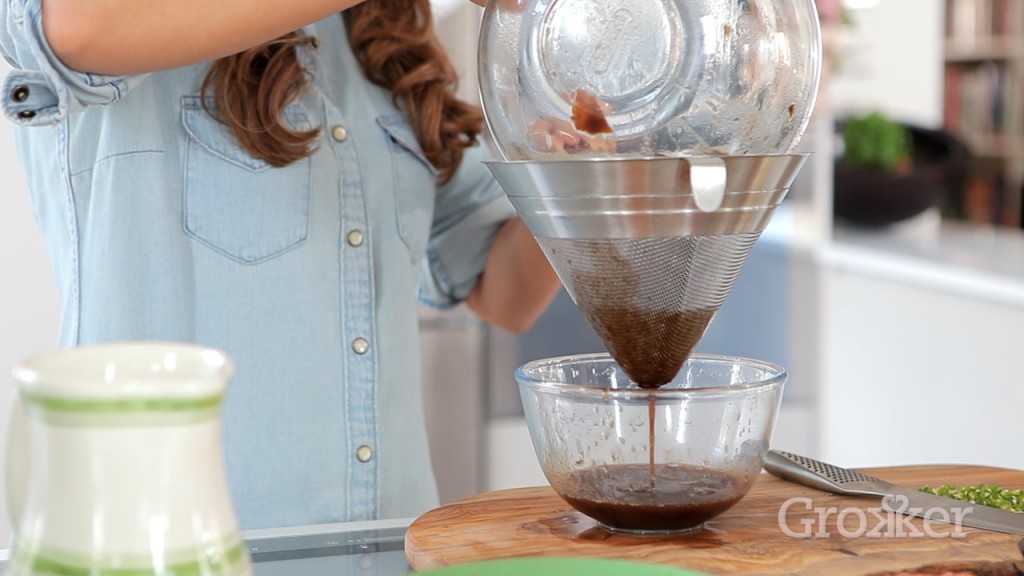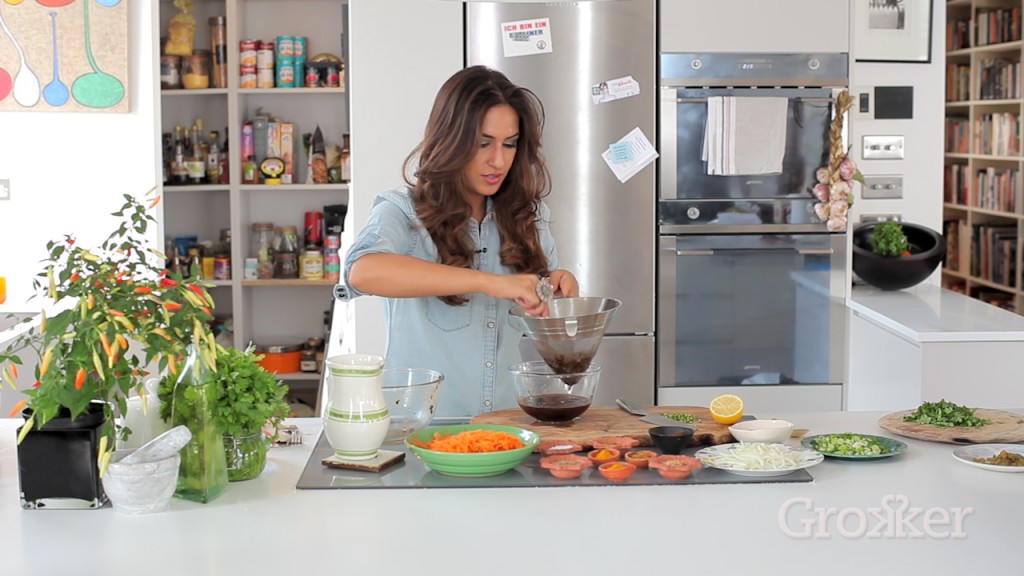 Add a little more boiling water to the solids that have remained.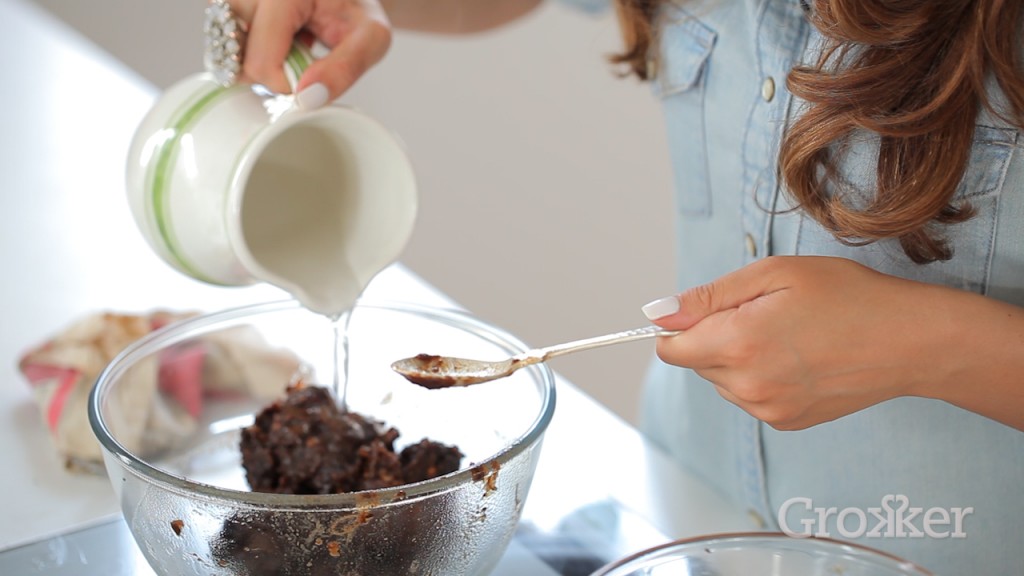 Using a large spoon, try and press and dissolve it into the water as much as possible. Strain again into the bowl. Repeat this process 3-5 times until you have as little solids remaining as possible.
Try and push these solids through the strainer by pouring on a dash more boiling water and squeezing it through with a teaspoon. Discard any final remaining solids when you have pushed through as much as you can.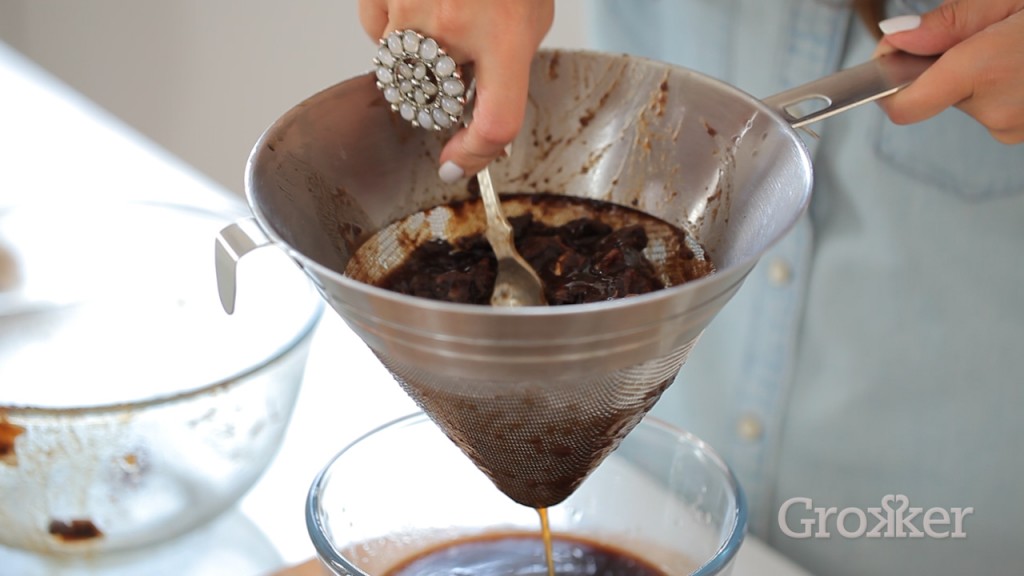 Stir the liquid thoroughly to mix.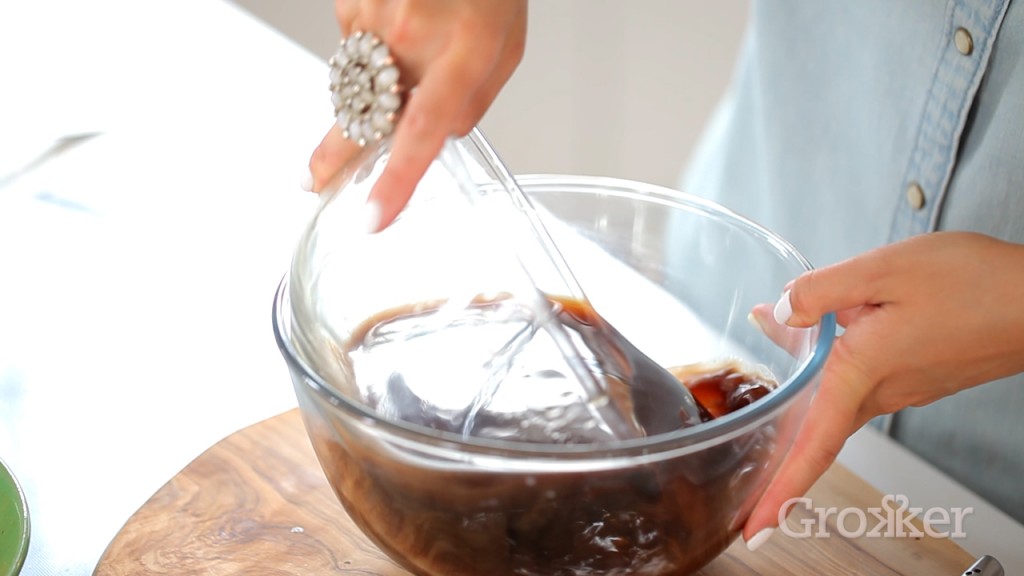 Add the remaining ingredients and stir again.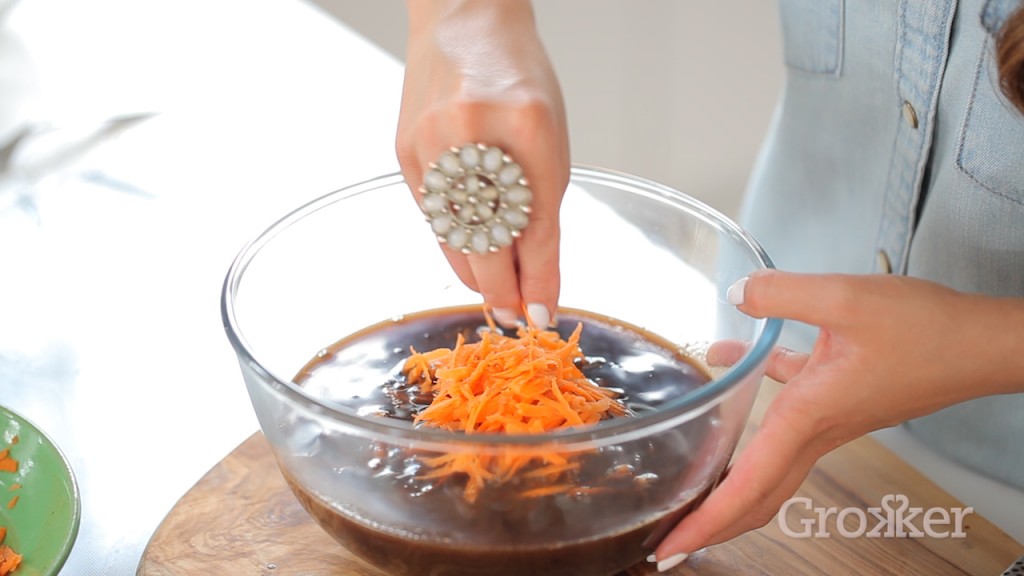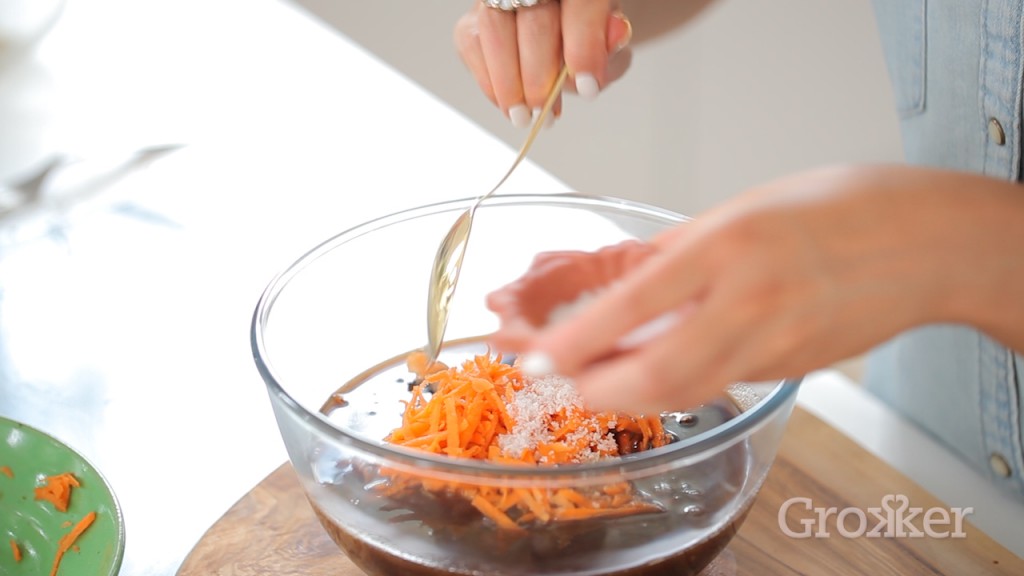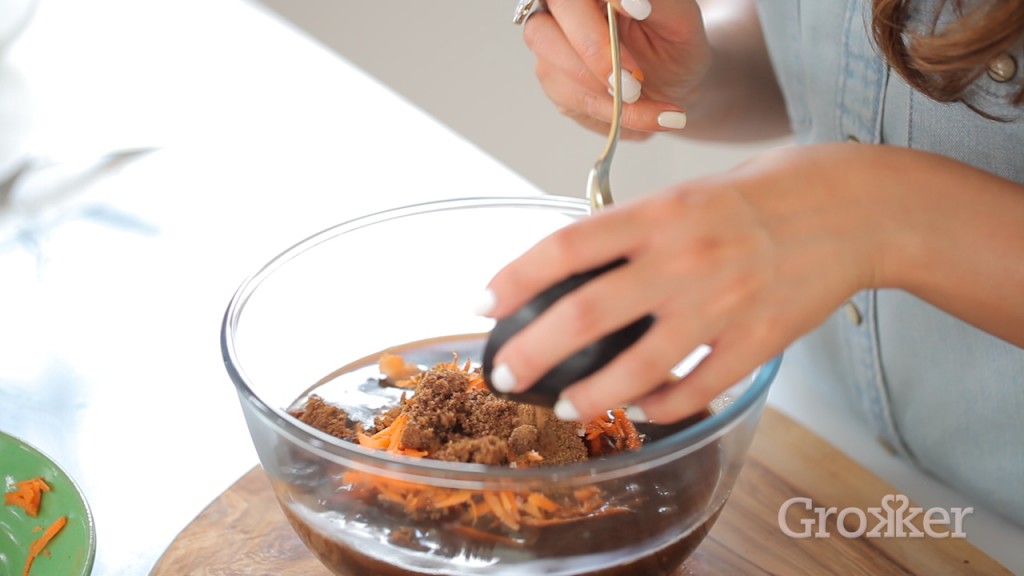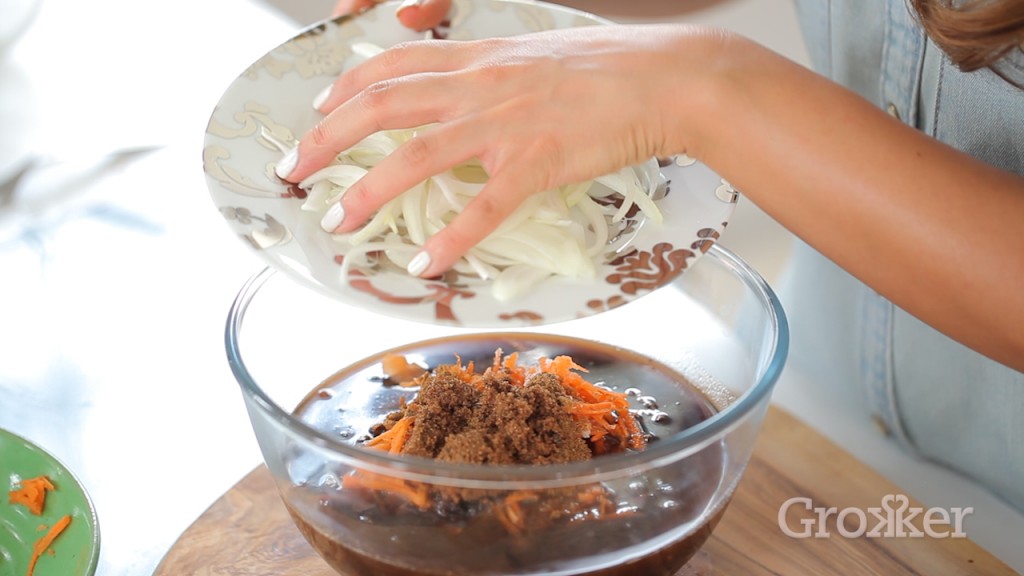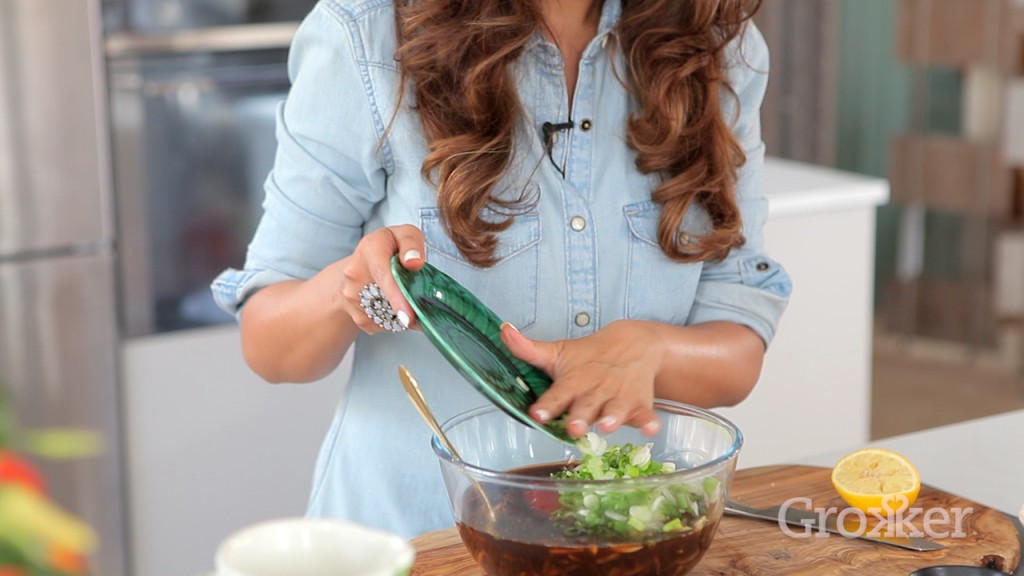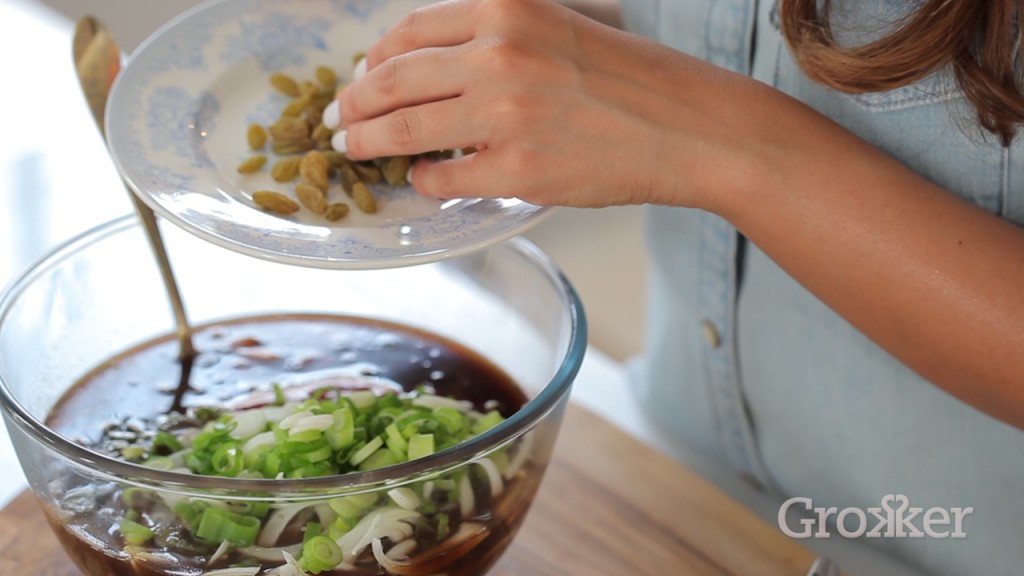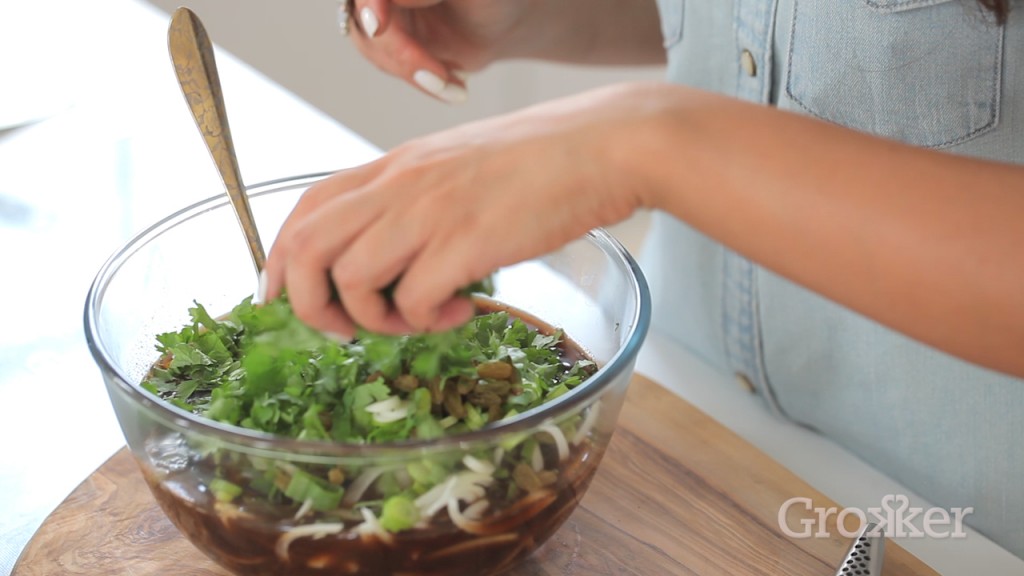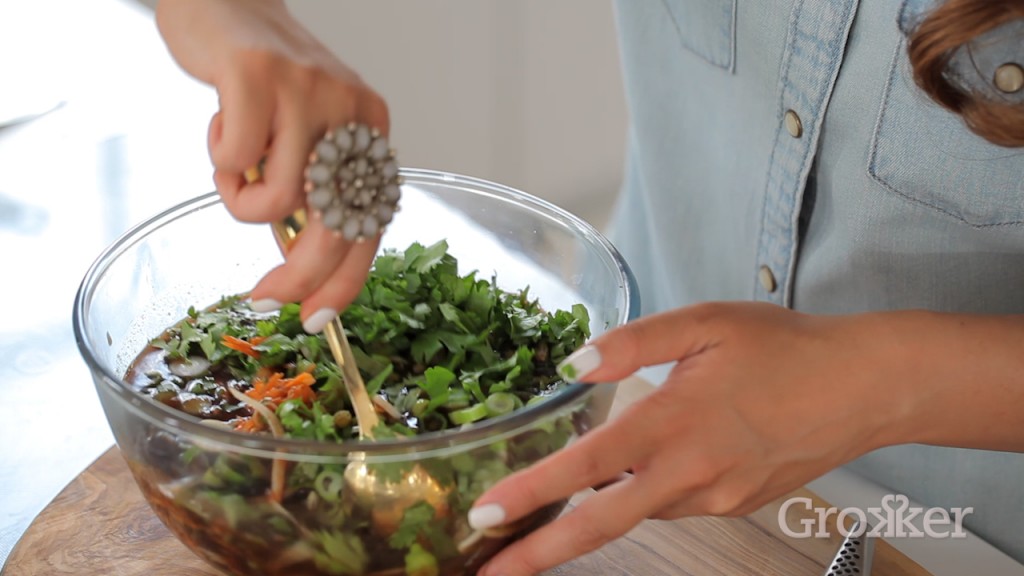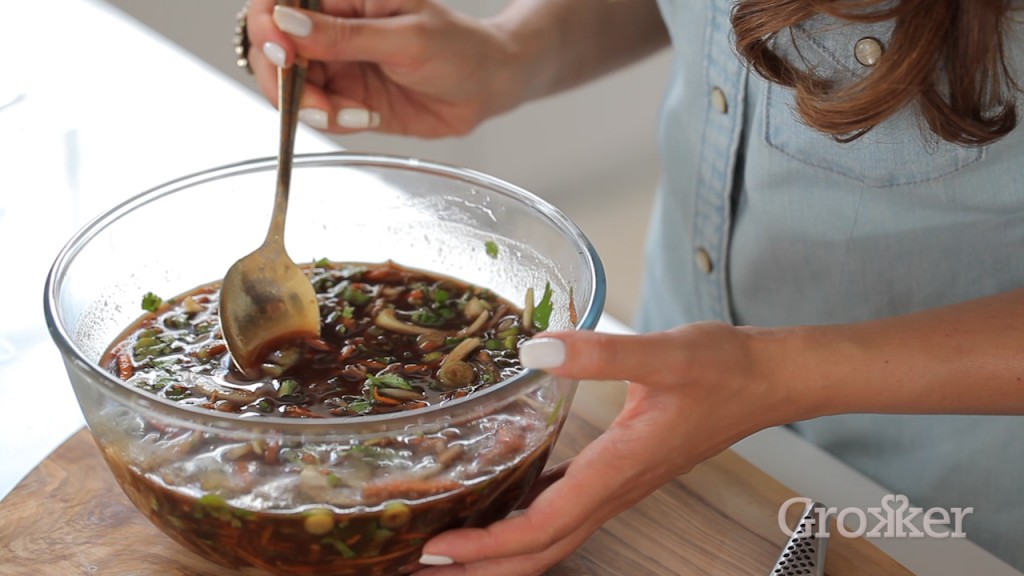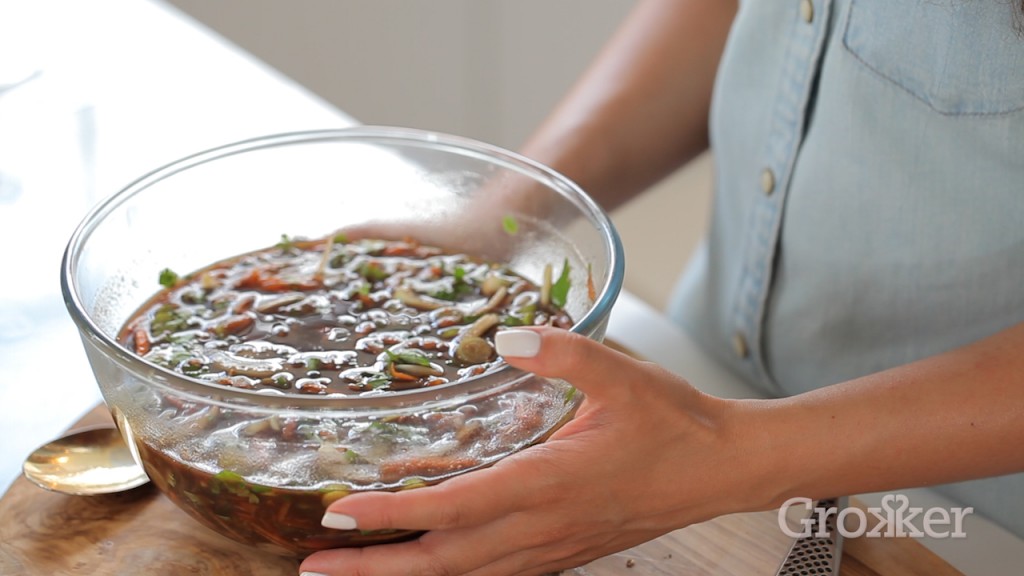 Chill for 30 minutes before serving, this is crucial to allow all the flavours to muddle together fully.
Come watch the video of how to make this yummy chutney on Grokker here!