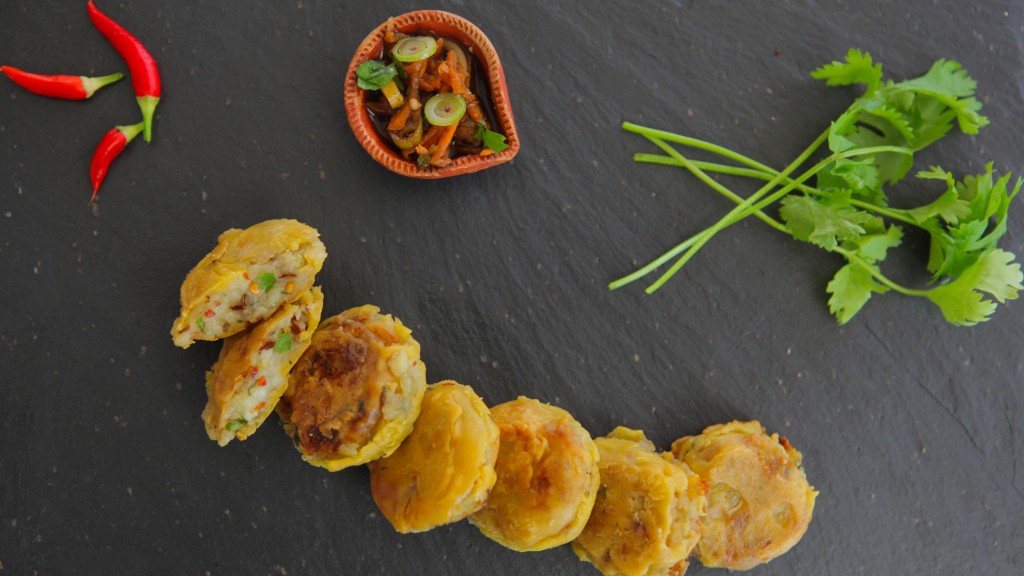 With it being Valentine's, it is only fitting that I offer a recipe that inspires true devotion…These little love bites have been so popular with my friends over the years that they have even gone on to inspire their own themed nights, with mounds of these yummy treats – tangy potato patties flavoured with garam masala, coriander, chilli, cumin and ground pomegranate seeds then covered in a crispy gram flour coating – being the centre of attention…Once bitten, you'll be smitten, as they will steal your heart…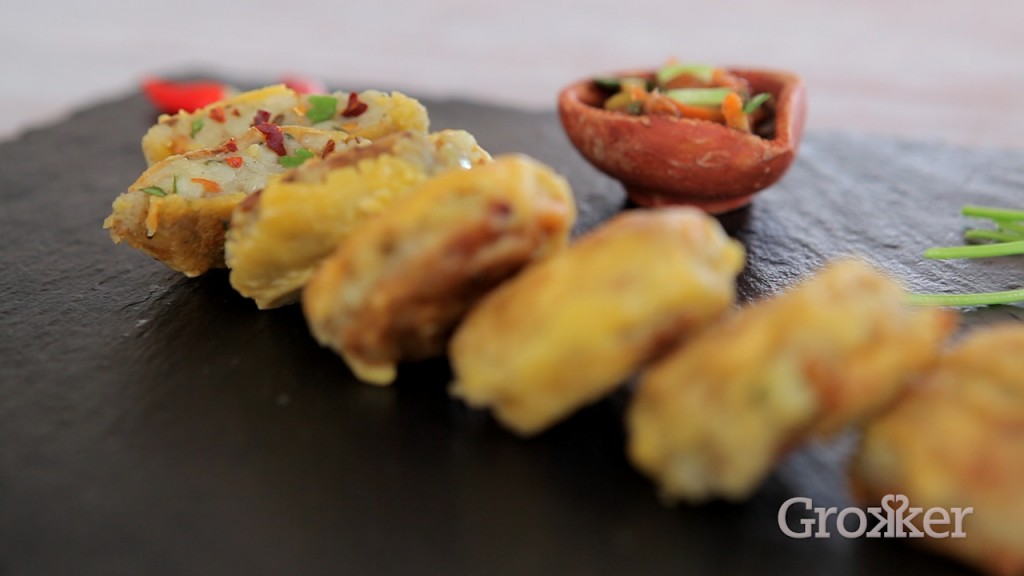 Aloo Tikki Bites also known as Aloo Tikkia
(a-loo – tikk – eea)  – tikkia is the plural of tikki
These beauties are so named because, just like Chicken Tikka pieces, they resemble the pendants, tikkas, that Indian women wear along their hair partings, and these are certainly little gems.
When this recipe came out in my book Cooking Like Mummyji, and I cooked them on various TV shows and for friends of friends, they created quite a fuss and seemed to develop their own dedicated following and fan base. When I made them on Good Food Live, the presenter took one bite, was silent for a few seconds and then said 'you are a genius'.  However, I can take no such credit though, as this is a traditional recipe which has been around for decades!
Every single person I have made them for has become quite addicted, and then they go off on an impassioned mission to get as many people to try them as possible…
I often make them for friends to cheer them up when they are down or feeling unwell, they seem to do just the trick!
If you can't find ground pomegranate seed powder, then add a generous dashing of lemon juice to add the right level of crucial tanginess. To prevent the potato mixture getting too wet, especially if using extra lemon, I suggest boiling potatoes whole in their skins, and then removing the skin with a sharp knife, leaving you the flesh, as this gives you a drier mash than peeling, chopping and boiling raw potatoes directly in the water. Also, make sure to chill the mixture well before shaping into patties, as this firms it up too.
This is a traditional recipe but some like to add peas, chopped cashews or even  leftover keema to the mixture as well. I like to add very finely chopped (so they are not bitter) frozen cranberries at Christmas time, which has proved a huge hit, with its fruity sourness. You can also make them with sweet potato, and perhaps add some chopped spinach, just make sure to add more lemon or ground pomegranate seed powder to ensure there is enough acidity to cut through the sweet potato.
They can be both deep and shallow fried, with shallow frying obviously being healthier. I use a mild and light olive oil for this. For reheating, I put them in the oven or under a grill so that they crisp up, as they can go soggy in a microwave.
We don't have starters in traditional Indian meals, so I grew up with these scrummy treats being made for me at home and by my relatives – my pooijis and chachiji – for celebrations, parties and as an afternoon snack with mugs of tea.
Our home versions are different to the ready-made ones I have come across in stores, as those tend to be full of turmeric and often uncomfortably hot, having been overloaded with masses of red chilli powder. These milder, fresher, vibrant ones are delicious dipped in yoghurt mint chutney, coriander chutney or imli chutney and bring as much warmth to a rainy afternoon in front of the TV as they do pizazz when served as canapés for a soirée…
Makes: 26
Ingredients:
1 tbsp oil
1 tsp cumin seeds
½ onion, finely chopped
½ tsp anardhana (pomegranate seed powder) if you can't find this, add a good dash of lemon juice instead for tang
1 tsp garam masala
1½ tsp salt
1 tsp dried red chili flakes
A handful of finely chopped coriander
4 potatoes (boiled whole in their skins, then peeled and mashed)
1 cup gram flour
Heat the oil in a frying pan.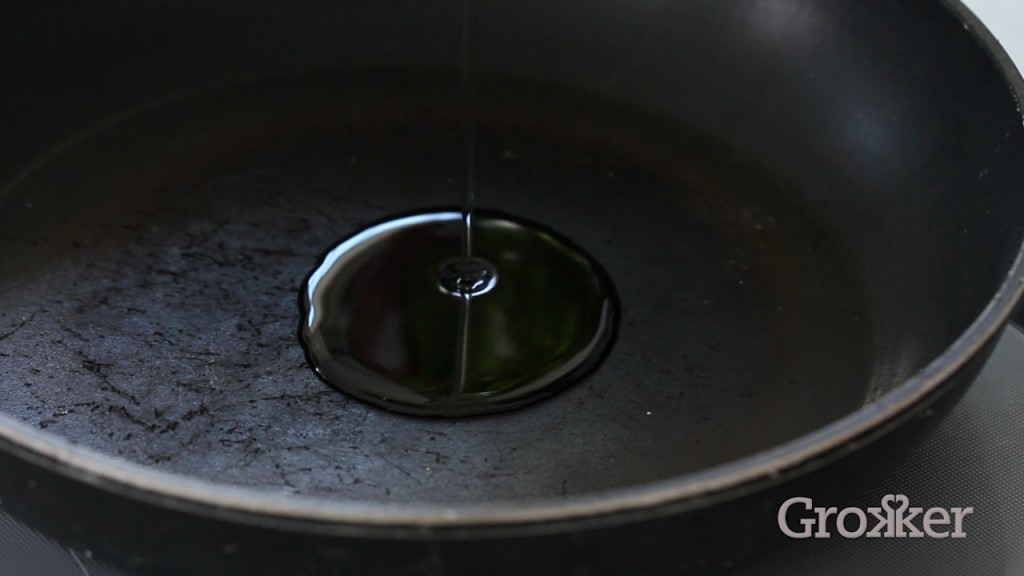 Add the cumin seeds.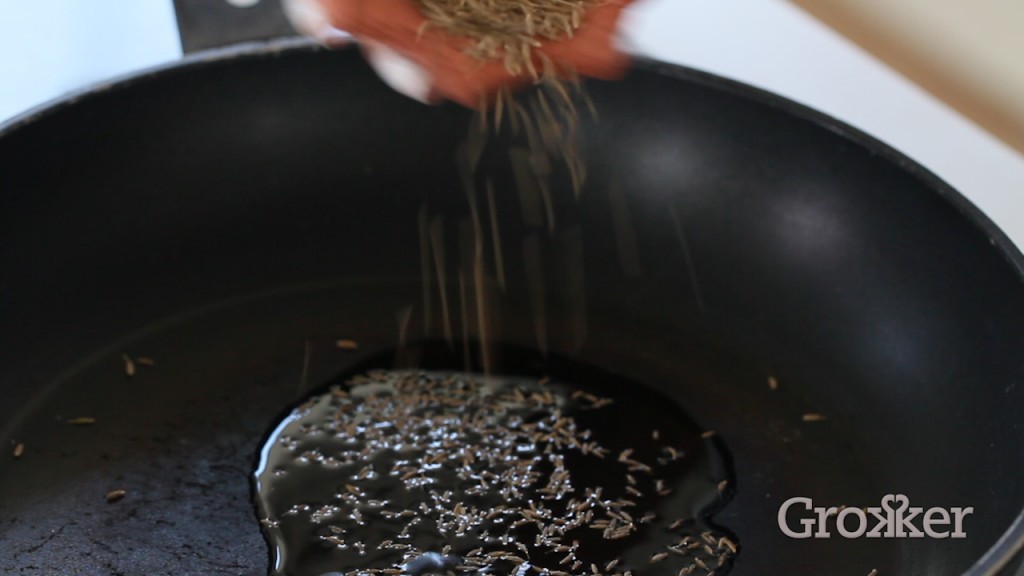 When sizzling, add the onion and fry until translucent.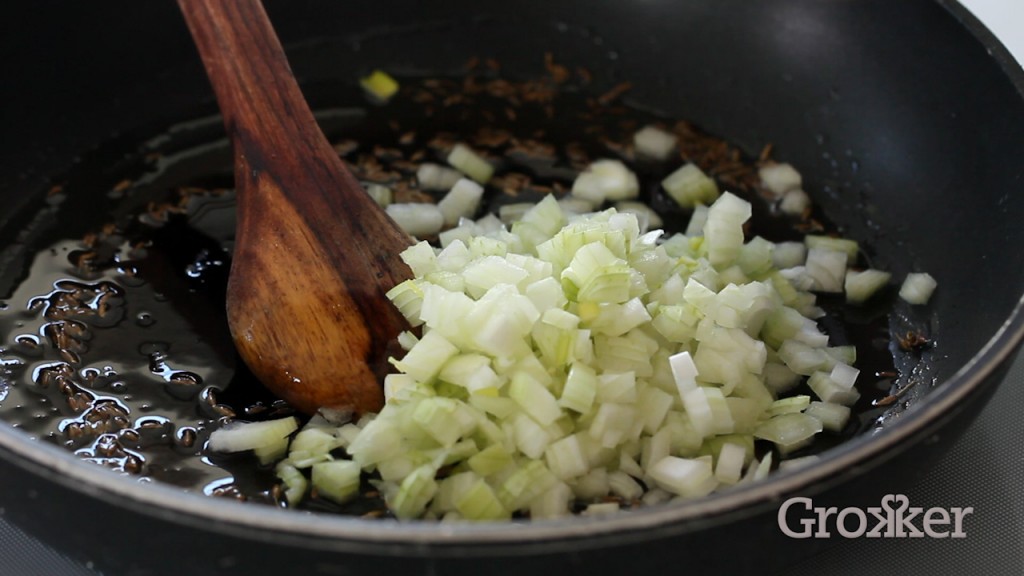 Add the pomegranate seed powder, garam masala, salt, chilli and coriander and stir well for about a minute.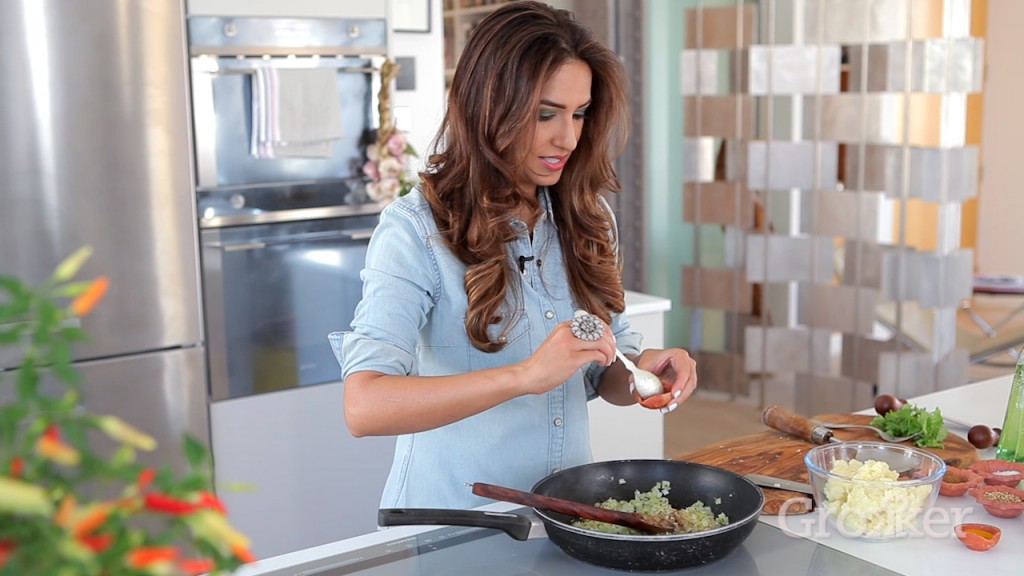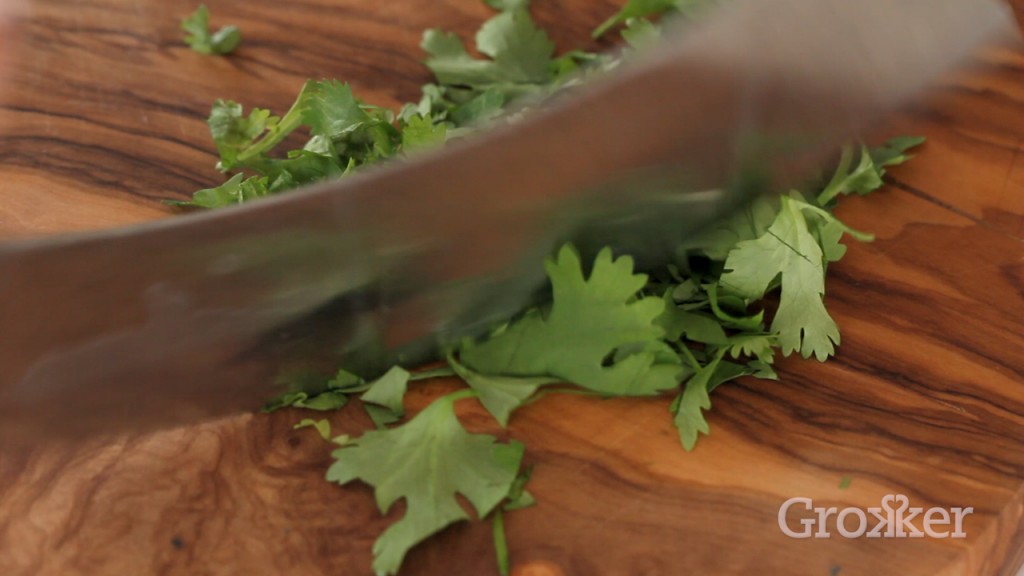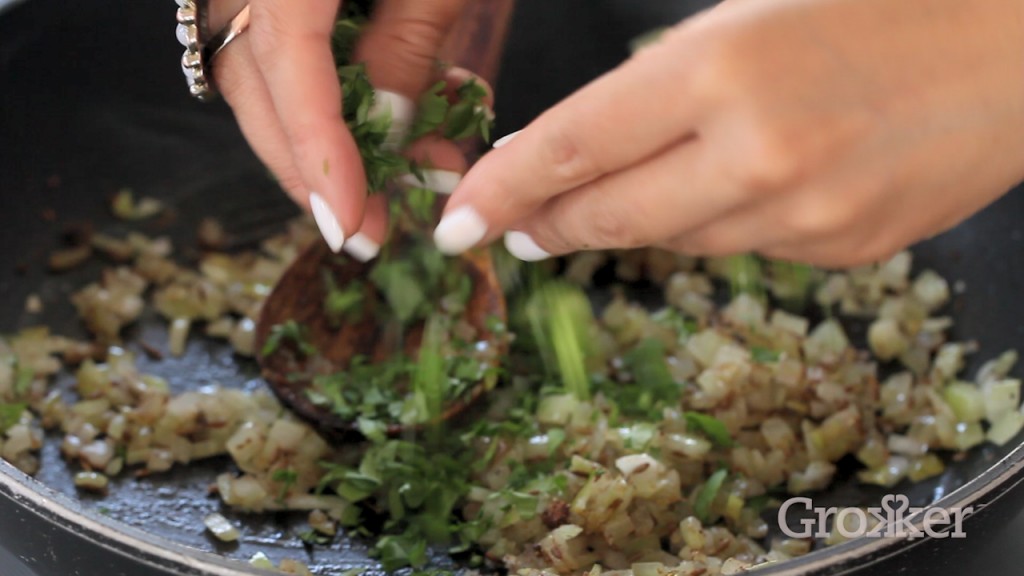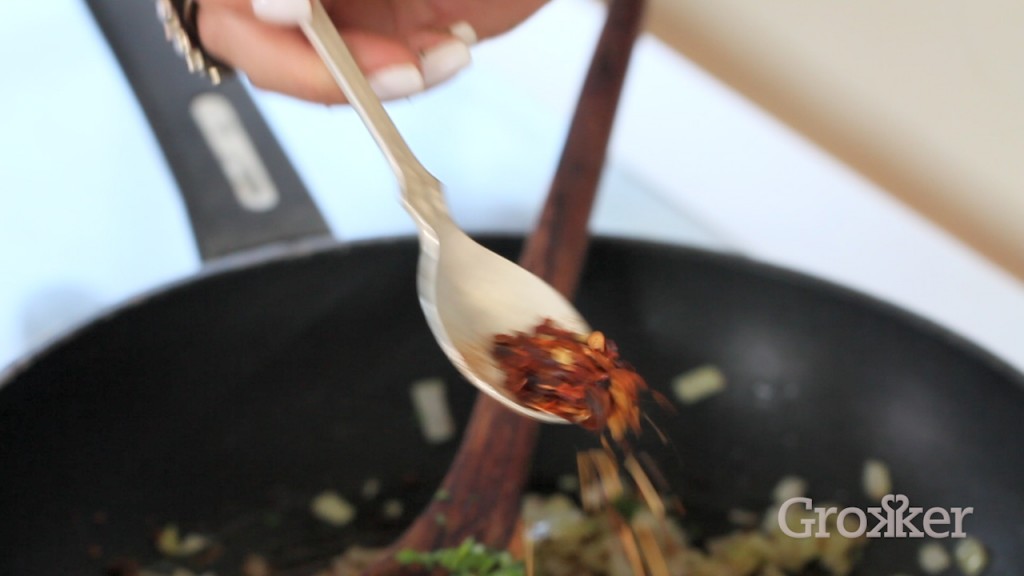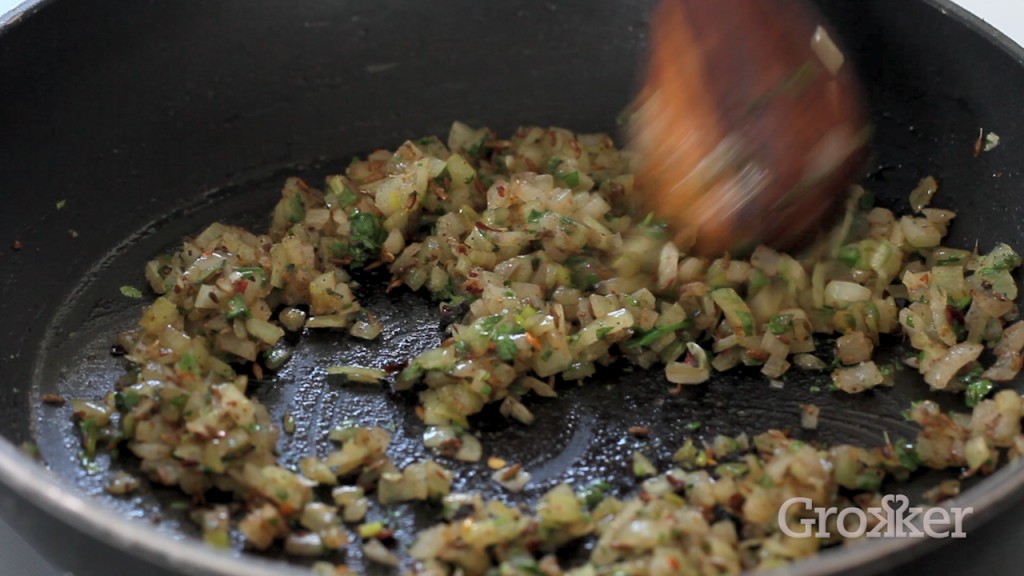 Switch off the heat and add the mashed potato to the pan.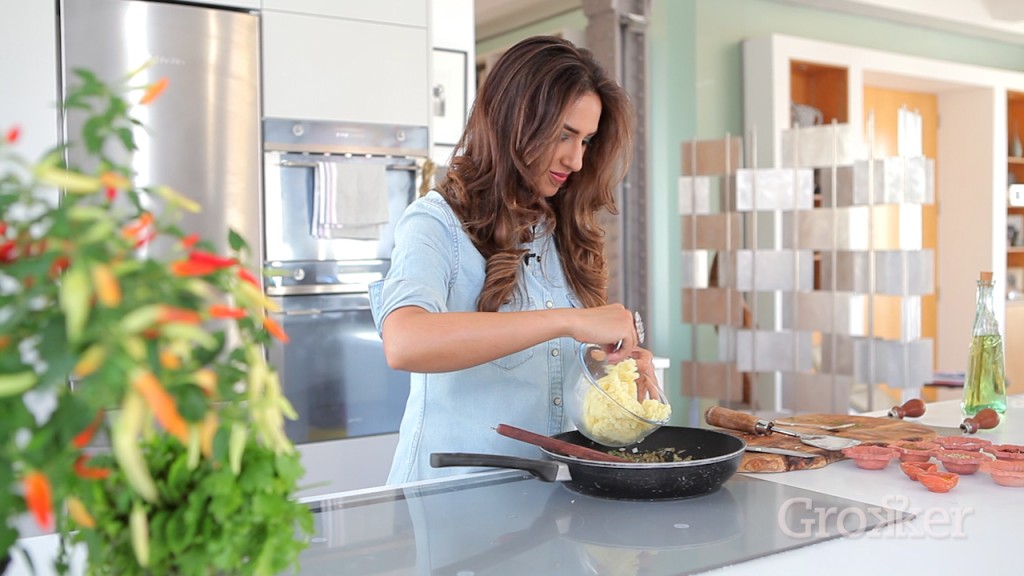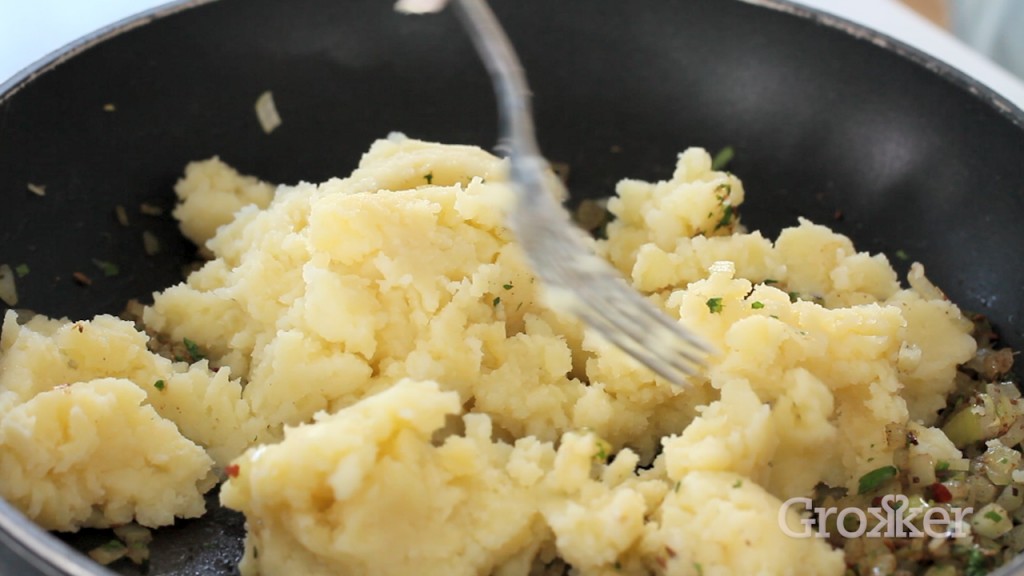 Mash well with the spices.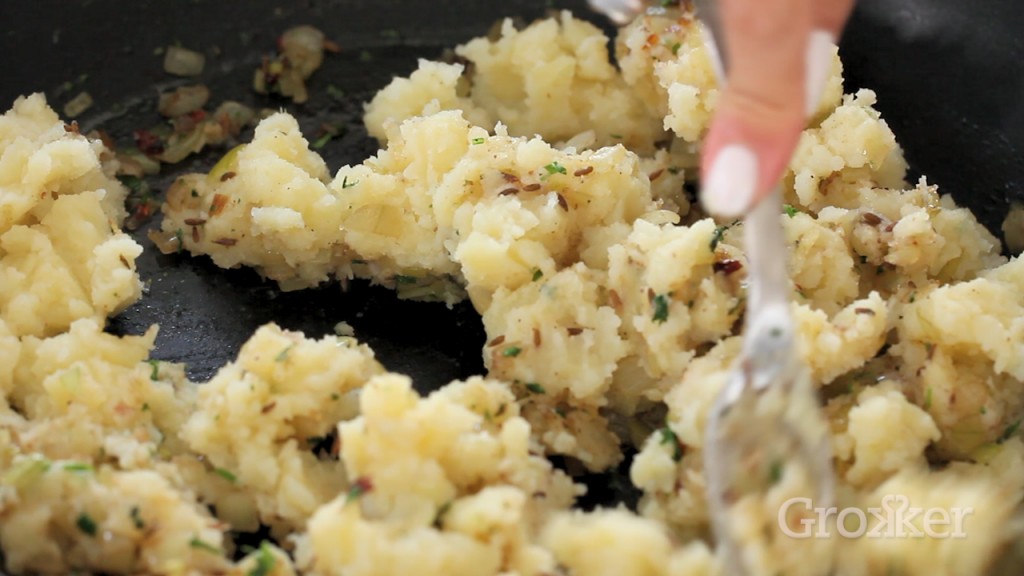 Place in a bowl and chill for 30 minutes, this helps to firm the mixture up a bit.
Place the gram flour in a bowl, you can sift it if you like, and add enough water, by very slowly adding a little bit at a time and stirring thoroughly, to make a thick, smooth batter.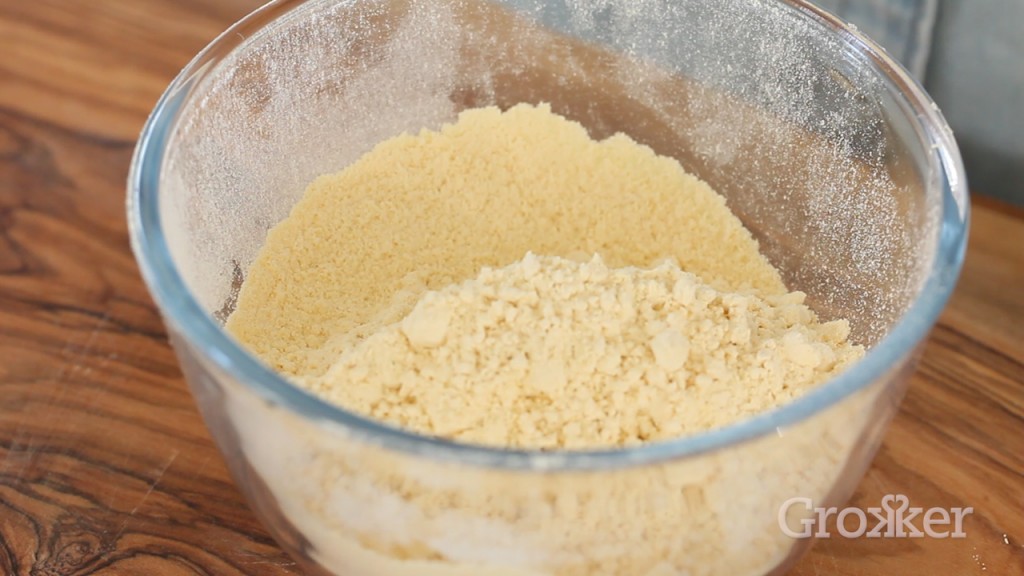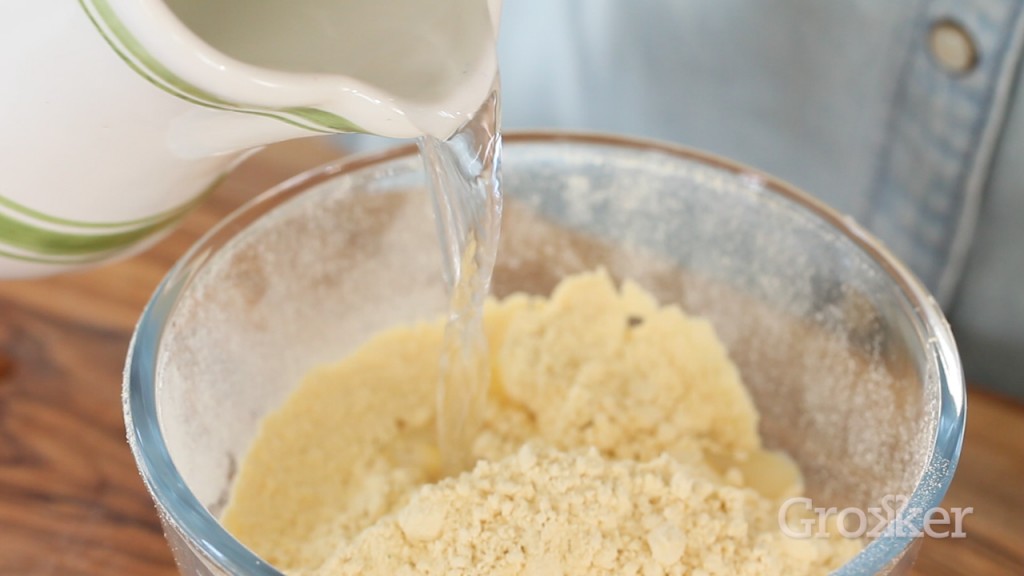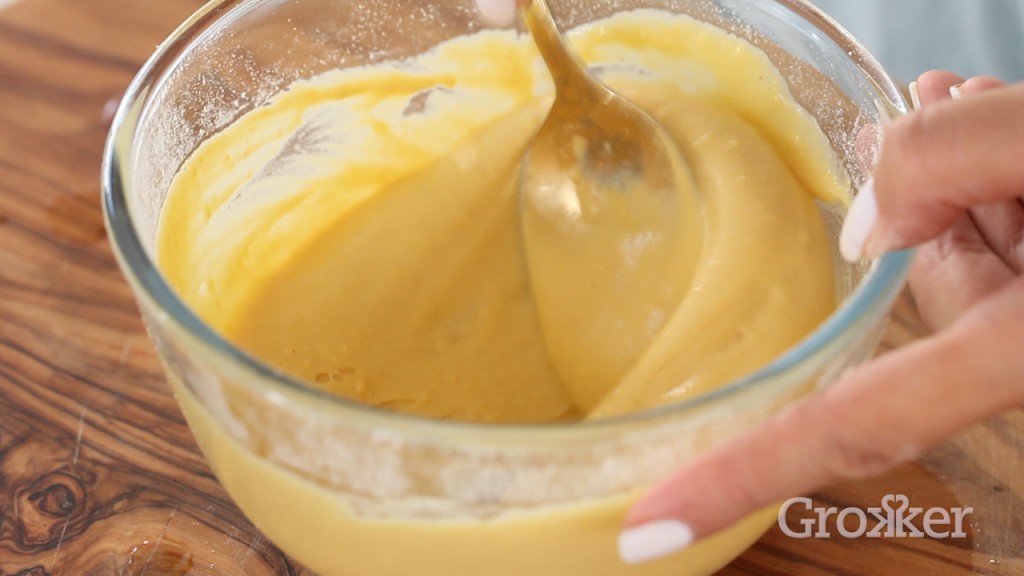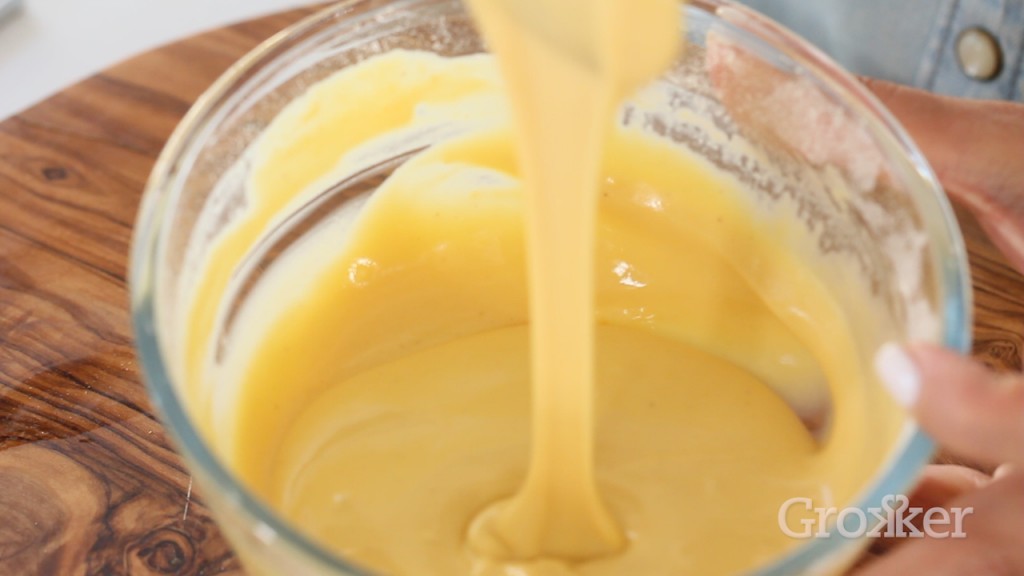 Roll the mixture into 26 little patties. Lightly oiled hands helps with this.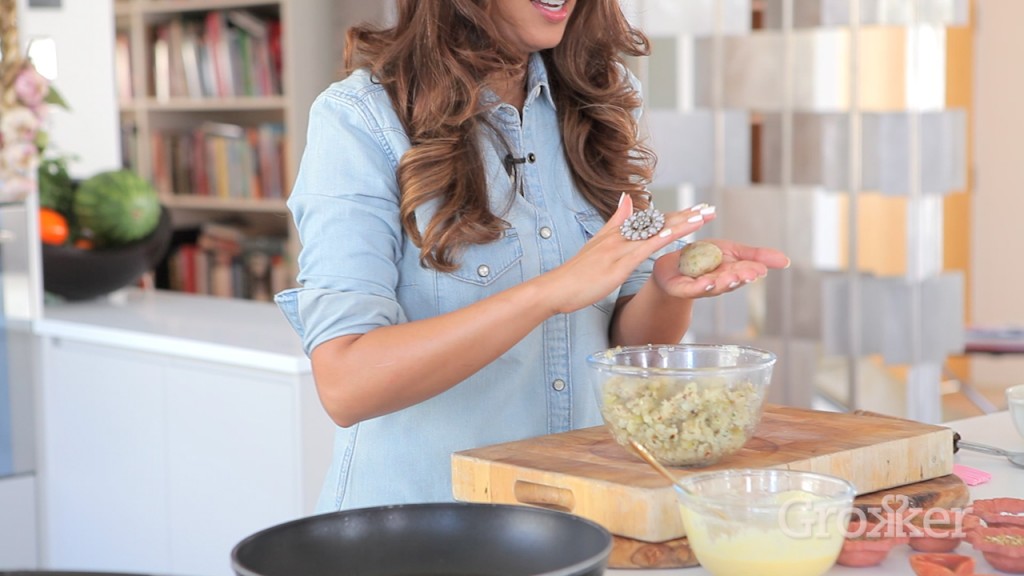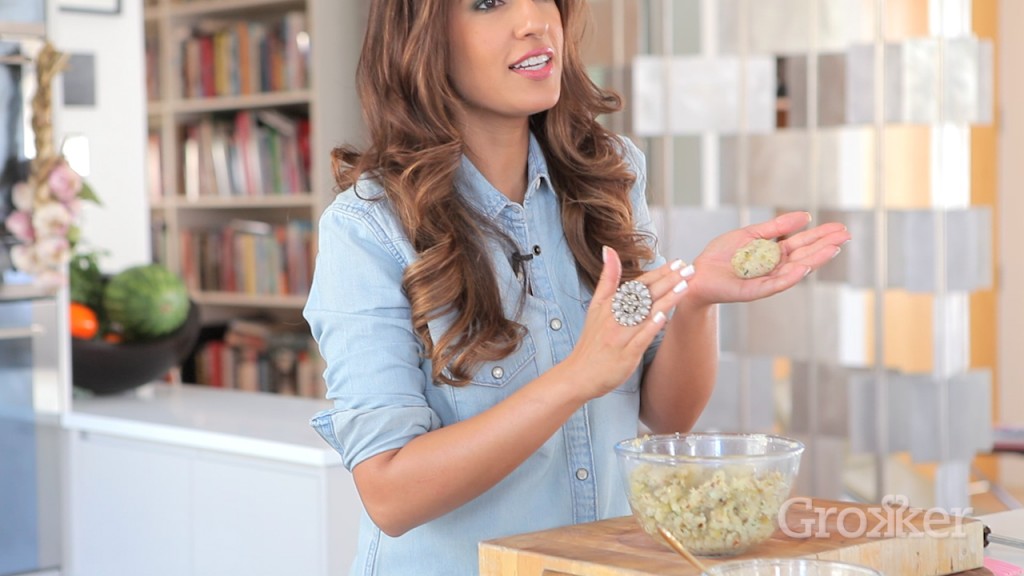 Coat each generously with the batter, by dipping (as traditionally done) or using a pastry brush to dab and pat, rather than brush (otherwise the batter will mix into the potato filling) all over each patty.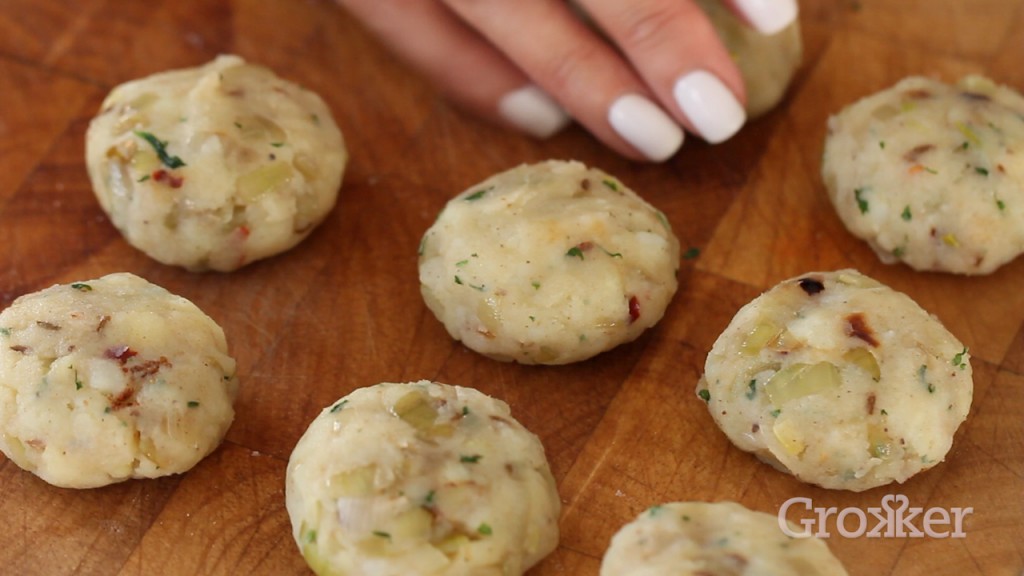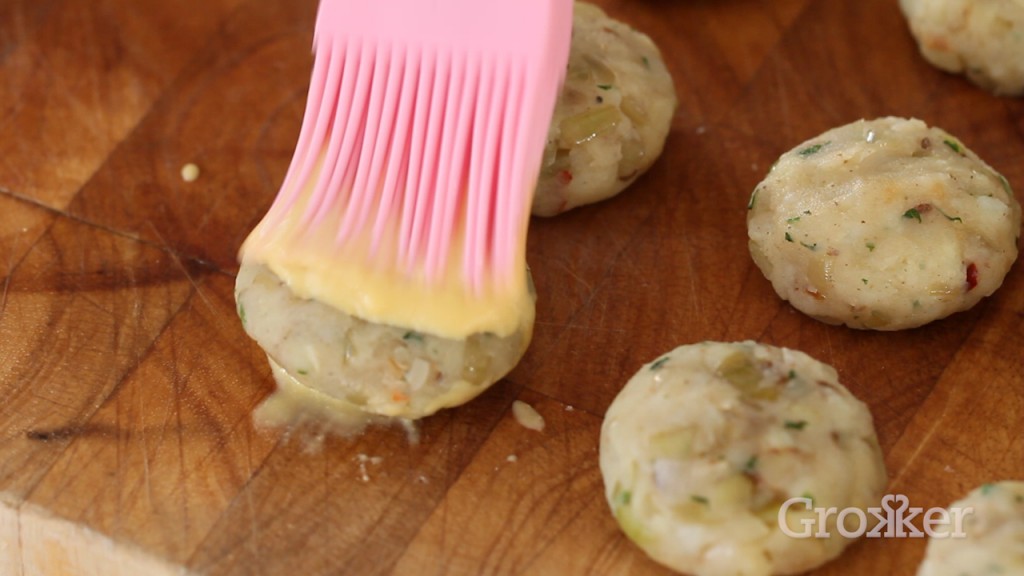 Shallow fry in batches for about 3–4 minutes on the first side and then turning over for about 1–2 minutes, tilting the pan to make sure the edges are cooked too.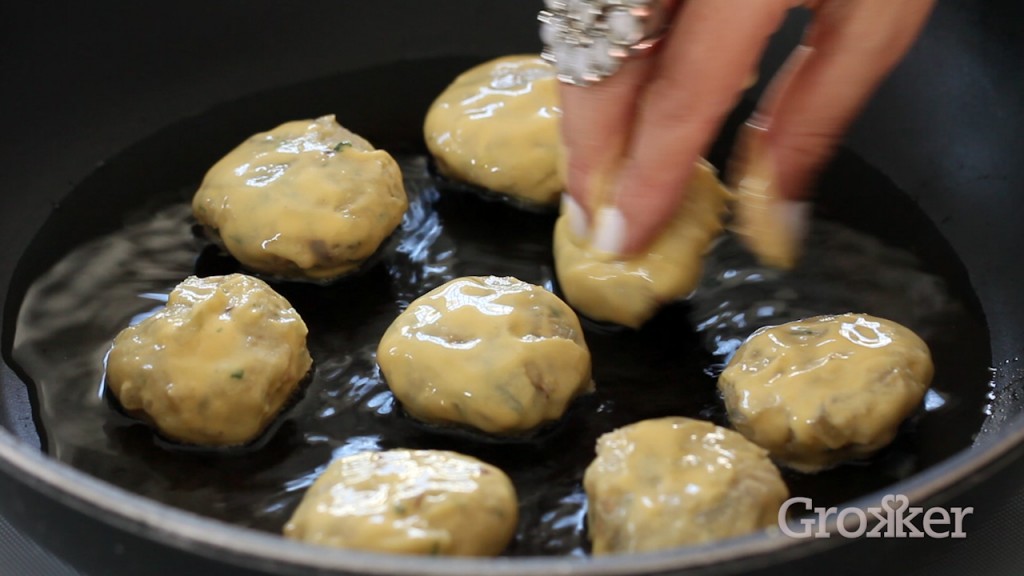 Drain on kitchen paper and serve. Enjoy!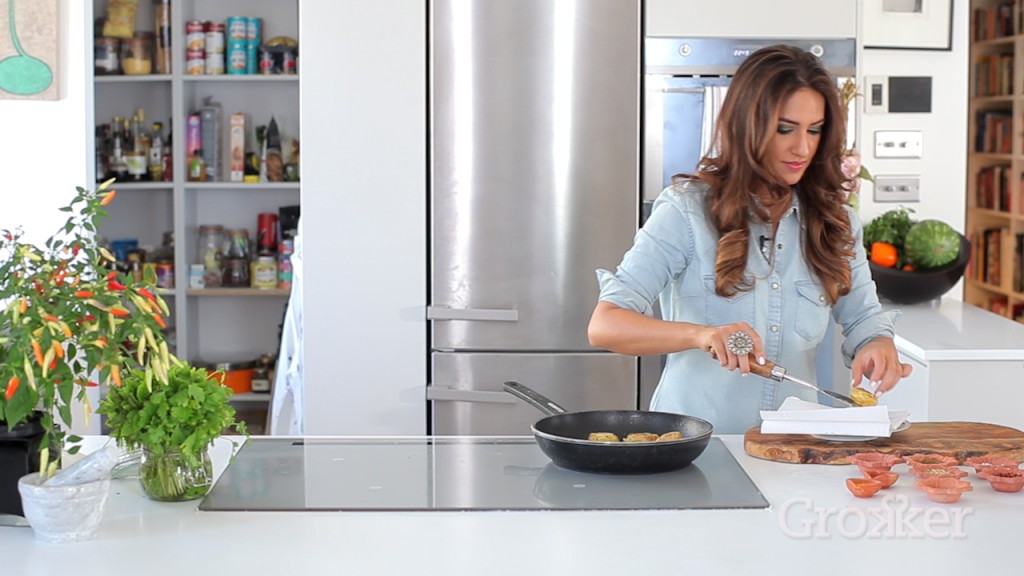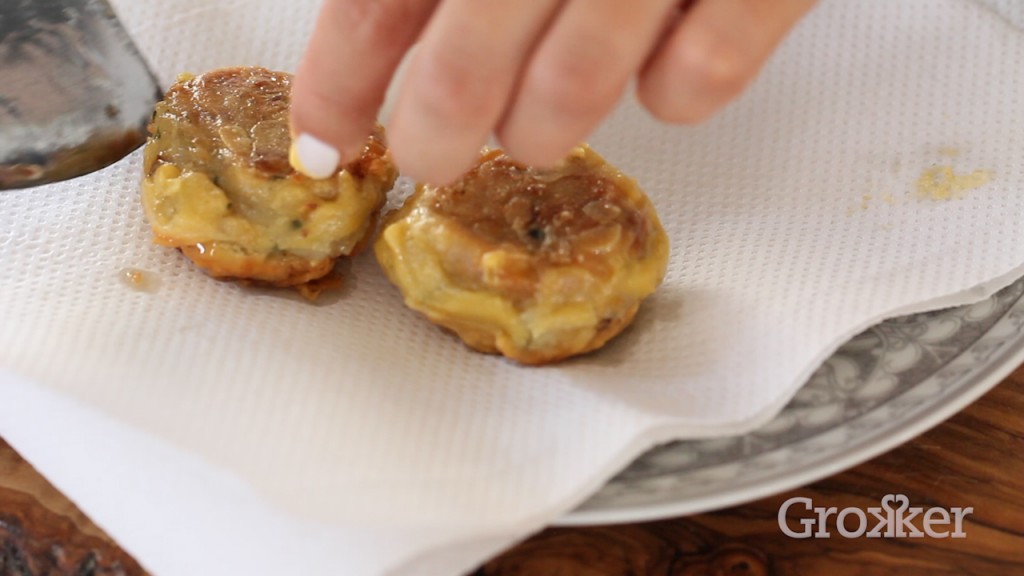 Come with me to Grokker here to watch the video on how to make these Aloo Tikki Bites!