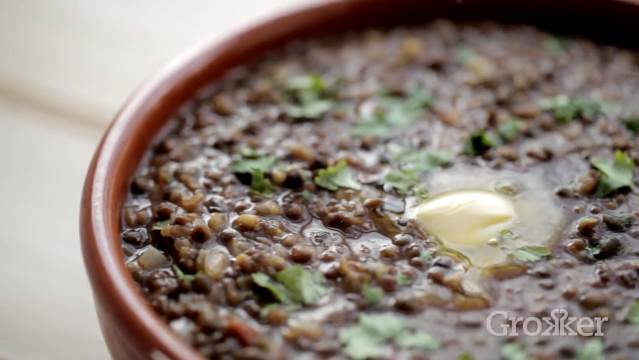 This dhal is an absolute favourite and like a warm, cozy blanket of a dish, perfect for chilly nights…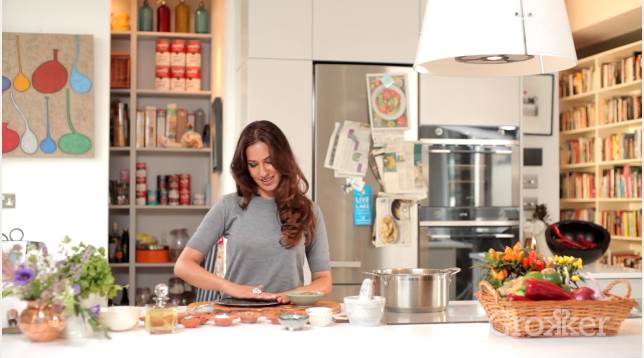 (ma-haar-mort-ha)
Pan-cooked Whole Urid and Moth Beans
I have very strong attachments to this dhal. My parents told me when I was young the story of how they struggled when I was born, a year after they had married and with nothing much to their name. They lived in a house with no other proper furniture than a small table and a rickety white chair for quite some time and had no help or way to turn.
They existed for a while on this dhal and white bread whilst striving to achieve a better life and, when I was tiny, it was what I was brought up on.
Now, after working so hard their whole lives, keeping faith and remaining strong, my parents live comfortably but always say that during those hard times, no matter how little they had, they were happy and appreciated everything. These memories are what makes me appreciate this dhal.
Even when you have very little money, Indian food still allows you to eat and feed your family nutritiously, especially without meat, and one of the greatest gifts my parents have given me is the knowledge to be able to make a wholesome and delicious meal out of not much at all.
Serves: 4 – 6
Ingredients:
½ cup saaf di mahaar dhal (whole urid beans), checked for stones and rinsed well
½ cup moth dhal (whole moth beans), checked for stones and rinsed well
2 tsp salt
½ tsp ground turmeric
2 green chillies, finely chopped
1 cup tinned chopped plum tomatoes, blended in a food processor until smooth
1 tbsp grated fresh ginger
2 tbsp oil
1 medium sized onion, finely chopped
4 garlic cloves, very finely chopped
1 tsp garam masala
A handful of chopped fresh coriander /cilantro
Butter to serve
Firstly, do make sure to check your dhal for stones and rinse well.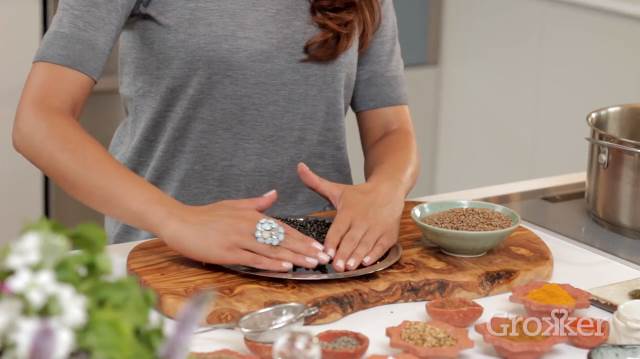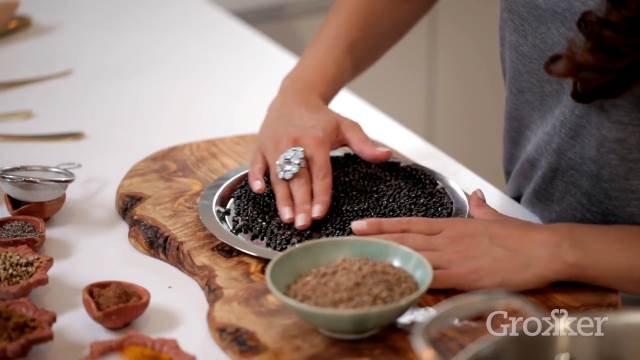 Place the dhal in a large saucepan and add 9 cups (2 ¼ litres) of boiling water.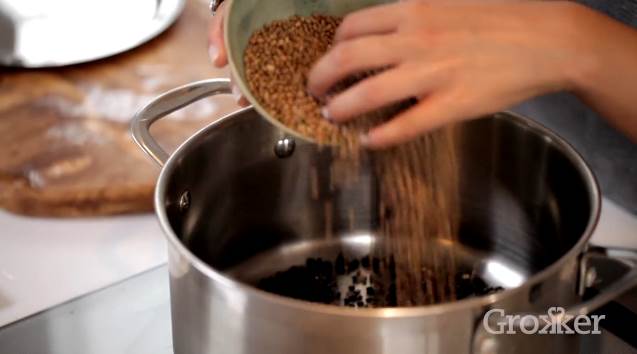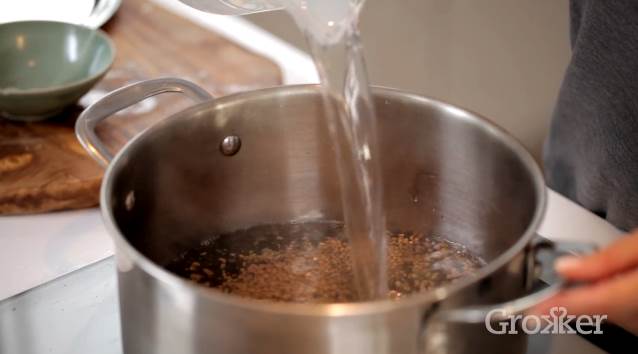 Add the salt and turmeric, stirring the water, and bring to the boil. Reduce the heat and simmer for 30 minutes.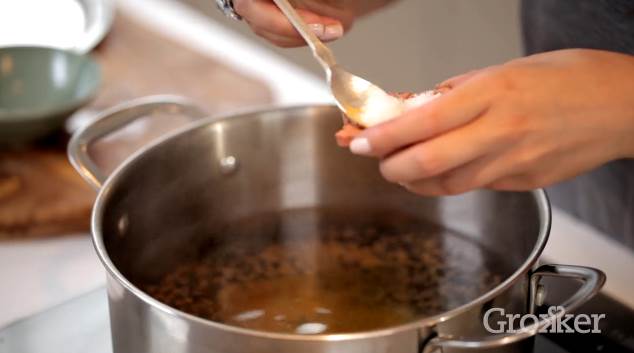 Add the chillies, tomato and ginger to the pan.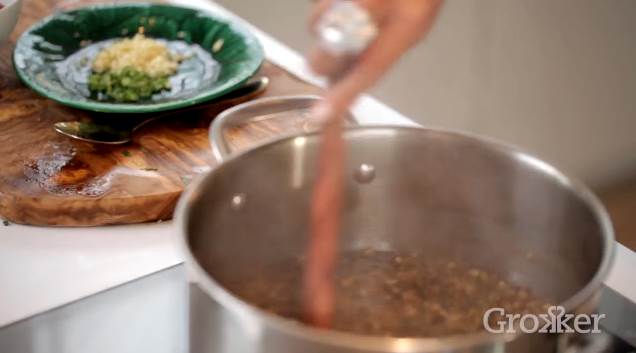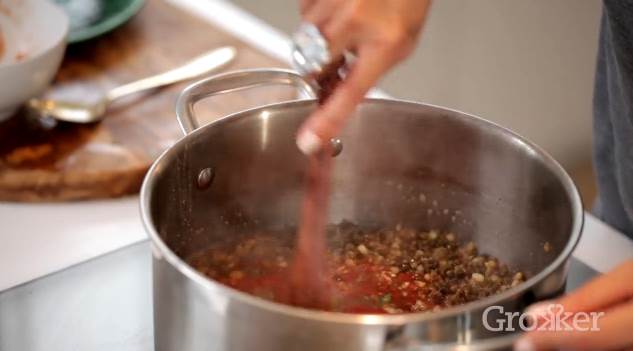 Stir thoroughly and simmer extremely gently, stirring frequently, for a further 30 minutes, adding another ½ cup (125ml) of boiling water partway through. Switch off the heat. The dhal should be well blended with the water and soupy in consistency.
Heat the oil in a frying pan and fry the onion and garlic until lightly golden.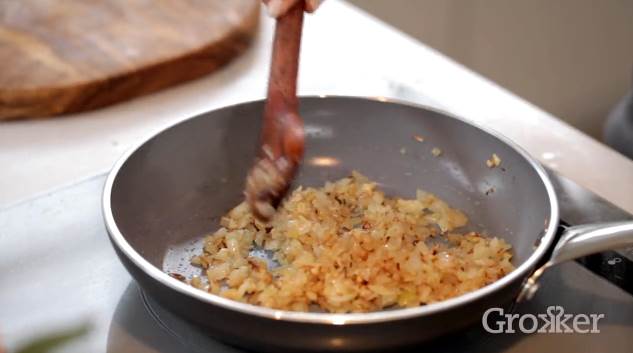 Adding a spoonful of the dhal to the pan with the onions and stirring it in first, pour this tarka over the dhal and sprinkle with garam masala and coriander / cilantro, before stirring it in and serving with a knob of butter.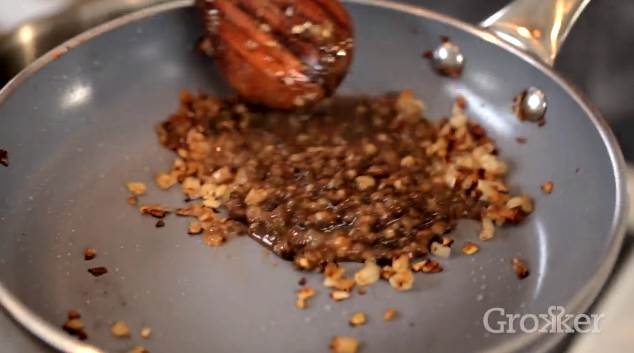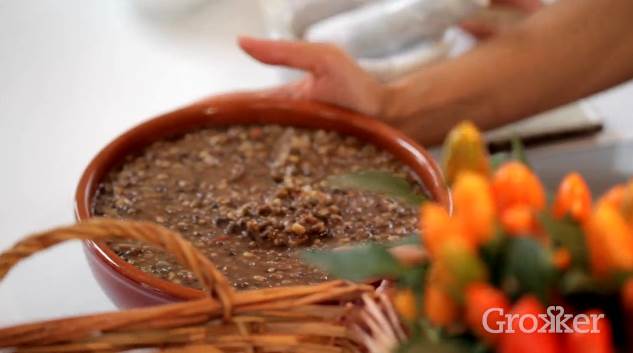 You can eat as a main or side dish, served with rice or breads like roti or naan.
Come and watch the video demo of how to make this dhal on Grokker!
<a href="http://www.bloglovin.com/blog/13179893/?claim=8xem7gbtuaw">Follow my blog with Bloglovin</a>