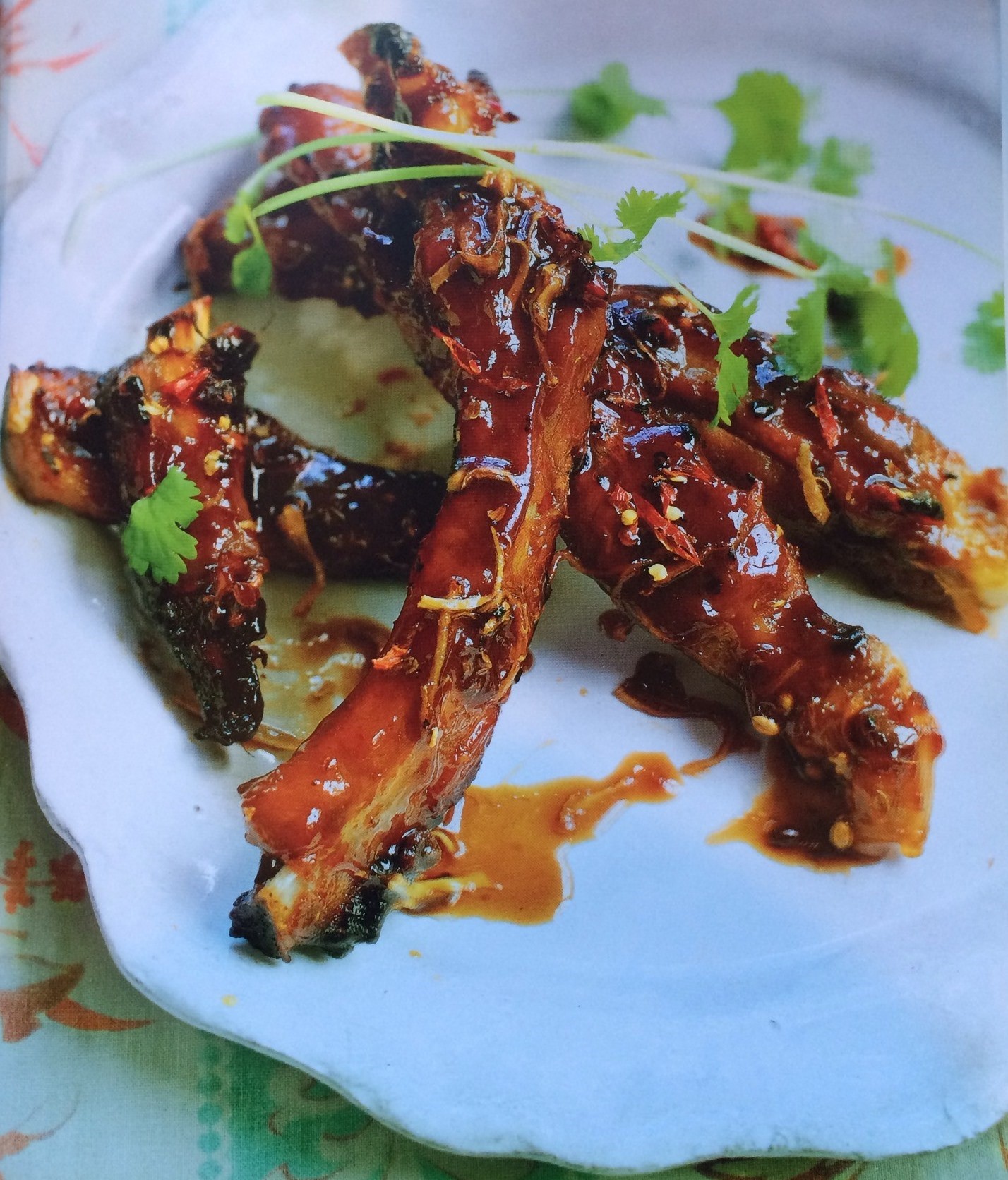 In celebration of Chinese New Year this week, I simply had to offer one of my most favourite Indian-Chinese creations. I have friends who are enormous fans of these sticky, sweet and hot little babies of deliciousness, and one person I once made them for introduced me as 'the infamous ribs lady' to her colleagues at an event…six years after I made them for her! They are so ridiculously easy peasy to make and coated in a gorgeous tangle of ginger, garlic, plum sauce, chilli, coriander and maple flavours…
Plum and Coriander Ribs
This dish really could not be any simpler. You just mix everything together and pour into a roasting tin. Done. So easy and yet so well received. The ribs are mouth-watering, moreish and the perfect food to stick a massive pile of in the middle of the table and gnaw on, hands getting right in and involved, whilst having a good old gossip and natter with the people you love most. I once served this to a friend who was heartbroken, and it seemed to cheer her up substantially.
The recipe is taken from my book Flavour, which incorporates all the global ingredients which have happily come to live in my kitchen, and the photograph is courtesy of the genius that is Gus Filgate, whose work I love, love, love.
Every Indian or British Asian home has fusion dishes, where we incorporate our spices into specialities from around the world that we have taken to our hearts. Indian-Chinese cuisine is so popular that there are restaurants dedicated to it and are firm favourites for birthdays and special occasions.
Thus this is a great way to use any whole coriander seeds (which give fab texture and crunch) and ground coriander that you might have knocking around in the cupboards!
You can also use this mixture to marinate chicken thighs for a barbeque, or even fillets of salmon. You could tear up the meat or fish and eat it in wraps and baguettes, too.
So Kung Hey Fat Choi; Happy Chinese New Year! Given it coincided with my being paid the most overwhelming, life-changing act of kindness, I think this new year, with its green goat and new moon / super moon / black moon, might just be a very lucky one indeed…this one is for you L, you are good, good peeps…
Wishing you all an abundance of good fortune and happiness xx
Serves 2 – 4
Ingredients:
About 850g pork ribs
1 tbsp grated fresh ginger
2 garlic cloves, crushed
5 tbsp plum sauce
1 tsp ketchup
1 tsp dried red chilli flakes
2 tbsp coriander seeds, cracked with a pestle in a mortar
2 tsp ground coriander
1 tbsp maple syrup
1 tsp dark brown sugar
2 tbsp olive oil
Fresh coriander / cilantro, to serve
Mix everything together with the ribs, rubbing the mixture into them, then cover and leave out to marinate for 1 hour, or refrigerate for longer. Overnight is best.
Preheat the oven to 180°C, 160°C Fan, 350°F, or Gas Mark 4.
Pour the ribs amd marinade into a large roasting tin and cook for 1 hour until brown and crispy, turning over halfway.
Serve scattered with fresh coriander / cilantro.