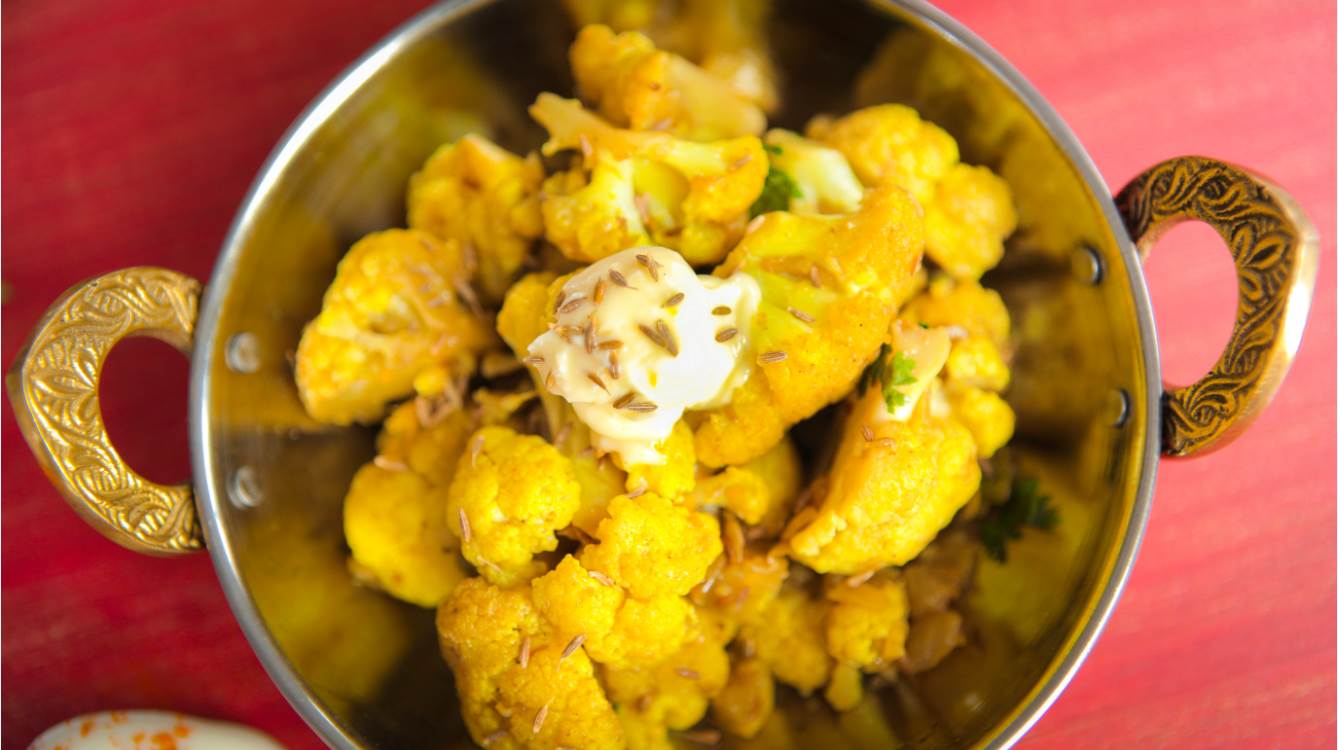 No one gets as excited about cauliflower season as Indians, but that's because we know how to make utterly scrumptious gobi di sabji out of them.
Banish any memories you have of this vegetable as soggy, malodorous and bland from school dinners, and embrace this delicious dish, a real Punjabi home classic, where the delicate sweetness of the cauliflower is enhanced by a whisper of subtle, earthy spices…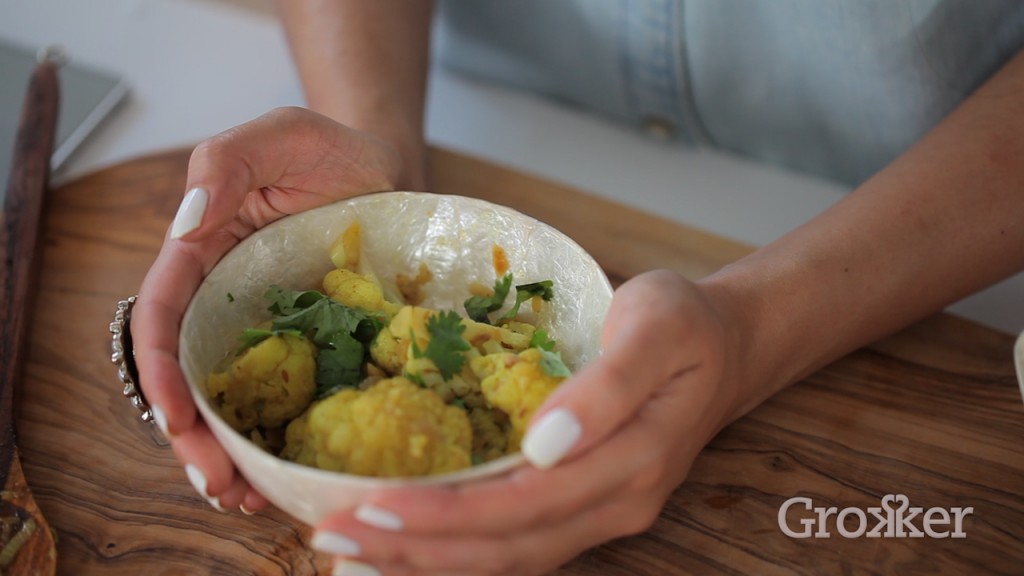 Gobi di Sabji – Spiced Steamed Cauliflower
(pronounced go-bi, not like the Gobi desert)
Made infamous by that all too true to life and hilarious kitchen scene in the movie Bend it like Beckham, where the mother is despairing of the fact her daughter doesn't want to learn how to make this crucial dish, this recipe has been cemented as an absolute staple in any Punjabi household.
A 'sabji' (sabjia is the plural) is a vegetable or vegetarian dish and a lot of them, as with this one, are dry in texture and don't have a sauce, they are simply steamed through with spices. They are very easy and simple to prepare and the basis for most sabijia is the same, so you can substitute different vegetables.
This dish is also known as 'Aloo Gobi', which literally means 'potato cauliflower' as potatoes are commonly added to this dish too. Everything else for the recipe stays the same but you just add a couple of peeled and chopped potatoes in with the caulifower at the same time, cutting them the same size as the florets, so that everything cooks evenly.
Sometimes, instead of chunks of peeled potato, I like to use halved new potatoes with the skins still on, if I want a more rustic vibe. We don't usually use waxy potatoes for this dish though.
Cut the florets to whatever size you wish, bearing in mind that larger pieces will take longer to took. Some families keep them very large, some cut them down very finely. I always slice up and add the unbruised  green leaves and stem of the cauliflower too, as these are packed with flavour and should not be wasted.
For variations, I sometimes change the garam masala in the recipe to ground cumin or ground coriander for a subtle twist, and on occasion also add a handful of fresh fenugreek leaves, finely chopped. Traditionally, a tomato tarka is not used for this dish, but you can use one if you prefer, adding 1/4 cup canned chopped tomatoes or passata to the golden onions and garlic, before adding the rest of the ingredients, and remembering to cook it through for a few minutes with all the spices, until the oil separates out, before adding the cauliflower to the pan.
For a healthier version, just omit the butter from the cooking and serving and use a little of your favourite oil instead, like coconut oil or mild and light olive oil.
We would eat this with hot, fresh roti straight from the thawa, with a dollop of butter on top and dahi (natural yoghurt), chopped mooli, green chilli, fresh ginger and achaar  (pickle) on the side, making this dish the star attraction, although it can also be eaten as a side dish. A popular use for leftovers are to mash them up and use the mixture to stuff a paratha, as traditionally done on frosty Punjab mornings for a filling breakfast before the day's labour would begin.
This hearty but elegantly spiced crowd pleaser is very versatile and just as suitable for a dinner party as it is for an everyday treat.
Serves 4
Ingredients:
2 tbsp butter
2 tsp cumin seeds
1 onion, finely chopped
1 clove of garlic, finely chopped
1 tbsp grated fresh ginger
2 green chillies, finely chopped
1 tsp ground turmeric
1½ teaspoon salt
1 tsp garam masala
1 cauliflower, cut into florets
¼ cup water
A handful of fresh coriander / cilantro finely chopped

Heat the butter in a large pan (you need space so that the cauliflower doesn't get crushed when cooking) and, when melted, add the cumin seeds.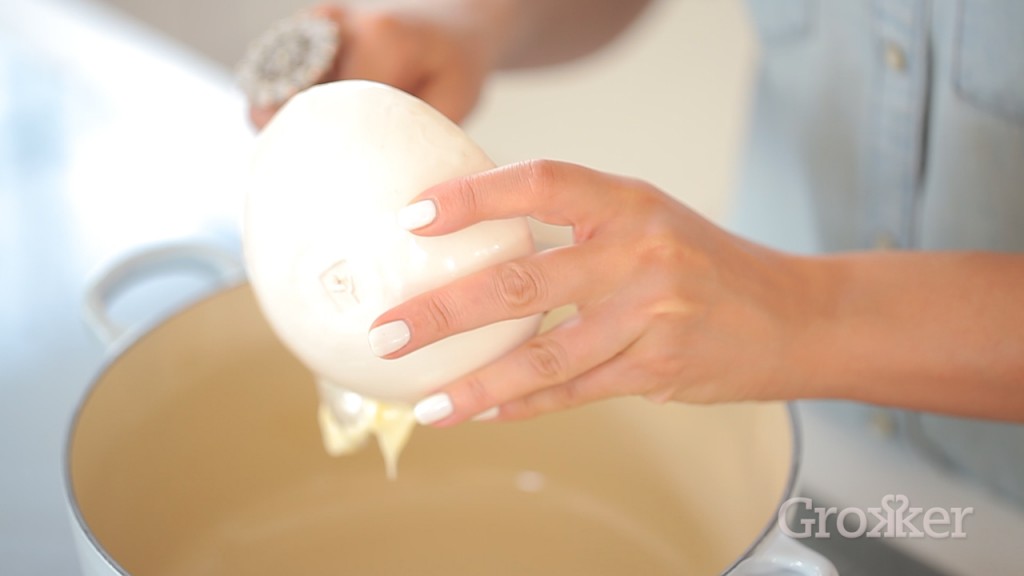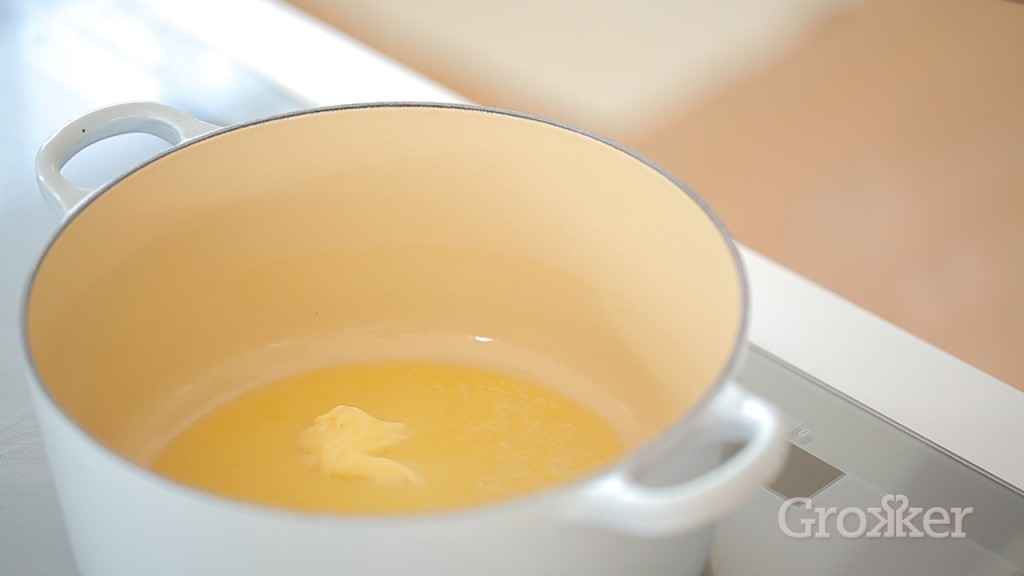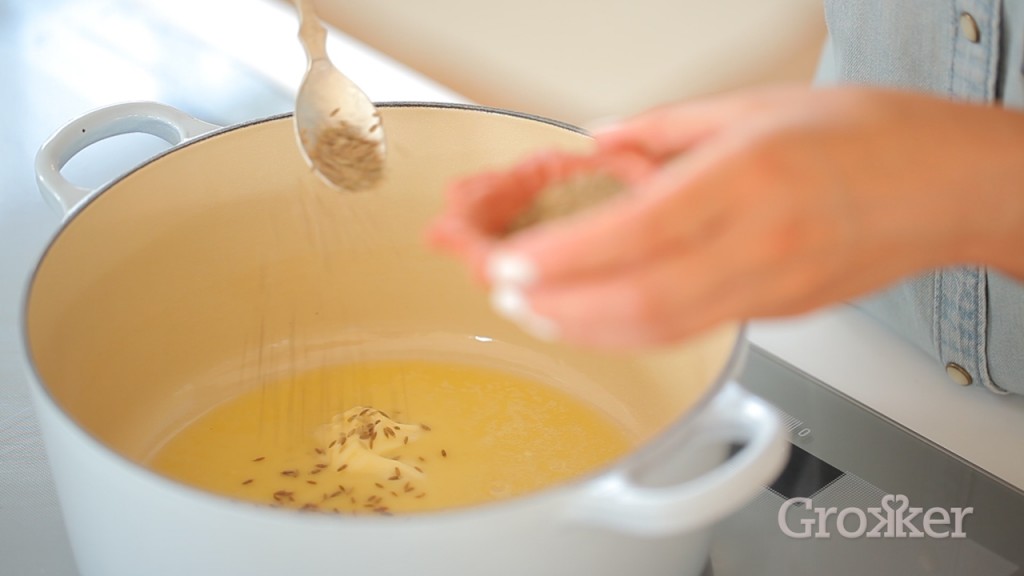 When sizzling, add the onion and, when soft, add the garlic, frying until lightly golden.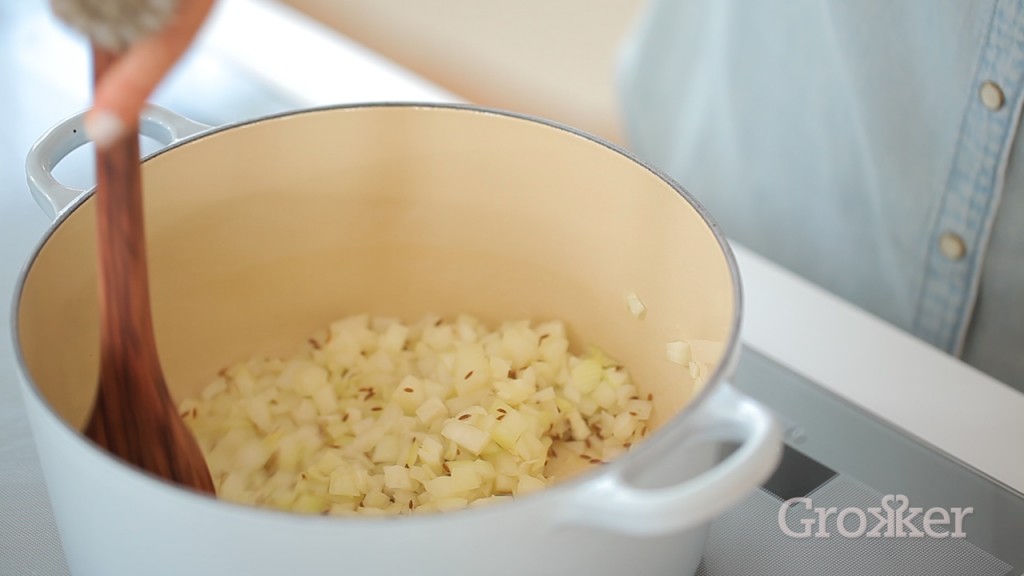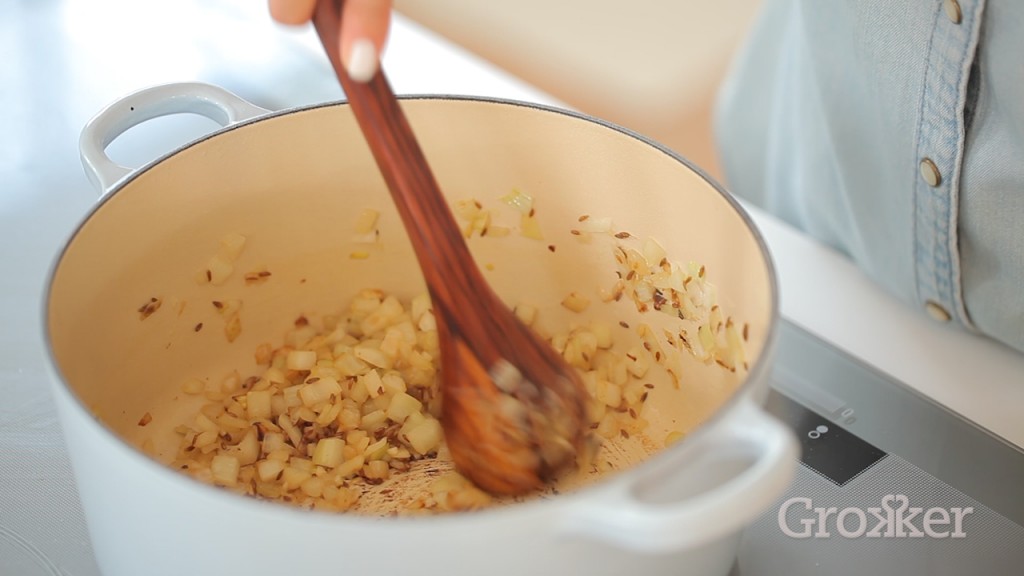 Remove the pan from the heat for a few seconds and then add the ginger, chillies, turmeric, salt and garam masala. Cook for about 30 seconds on a gentle heat, stirring. Add a splash of water to make sure nothing sticks.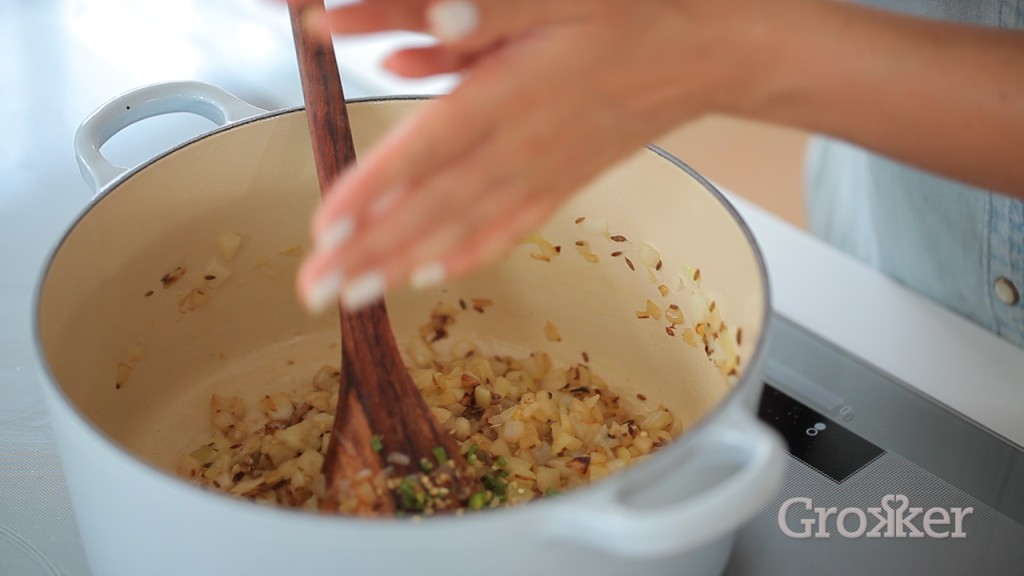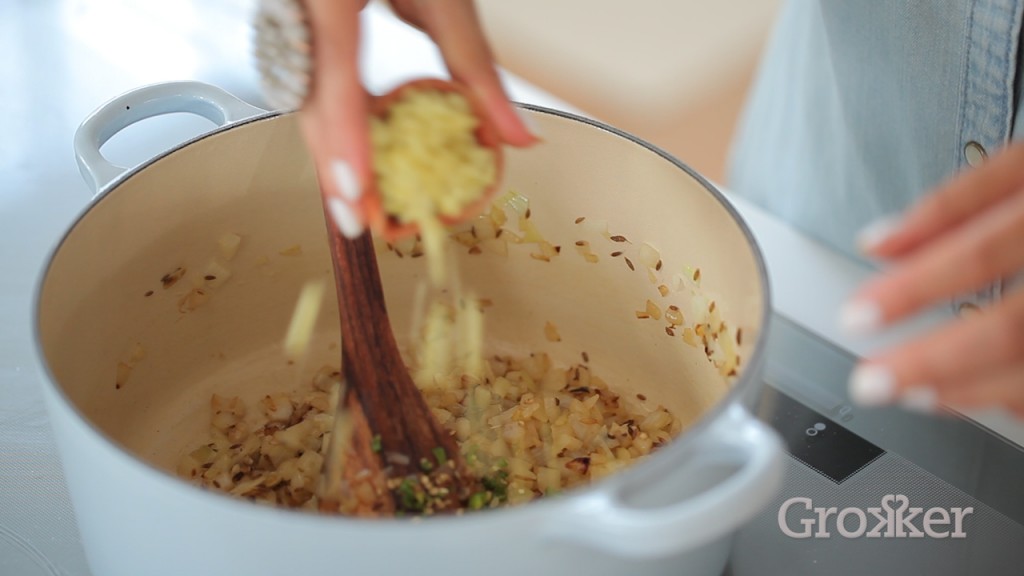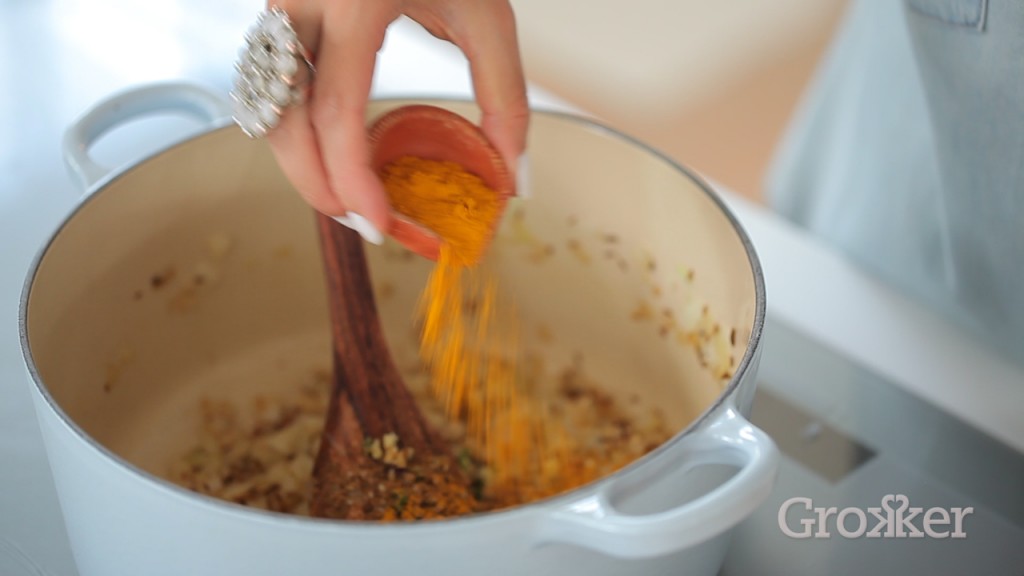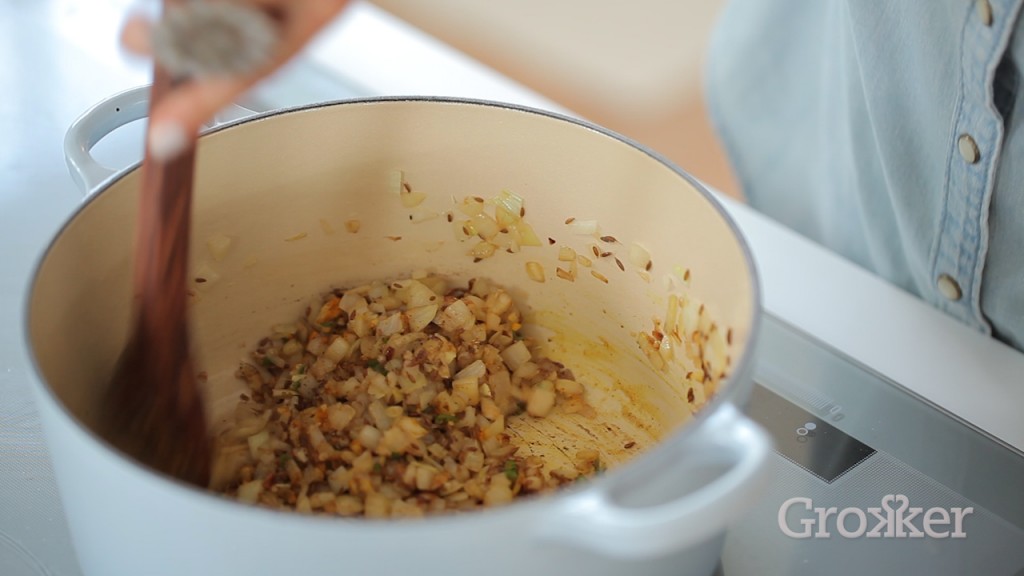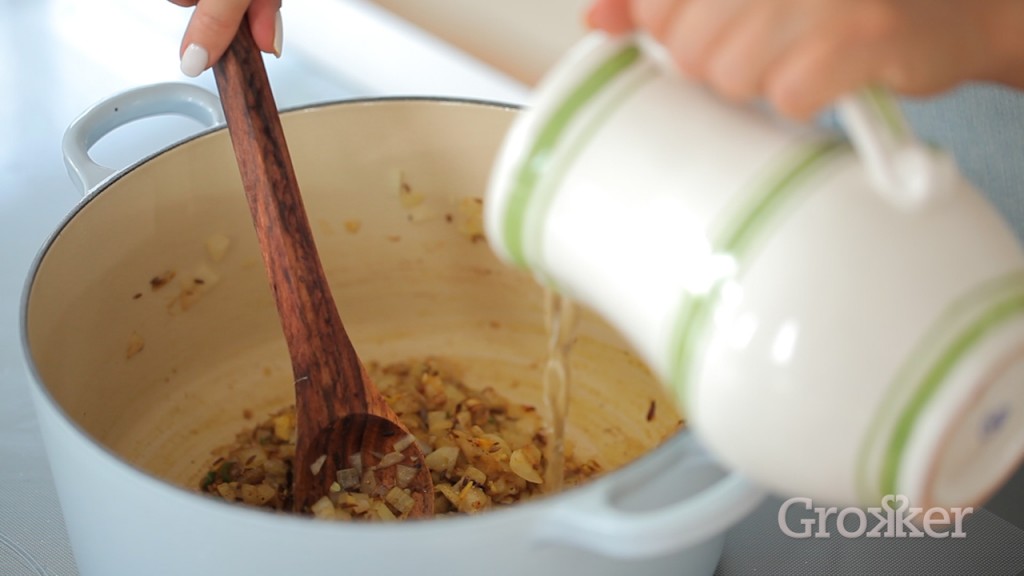 Add the cauliflower and turn up the heat to medium. Stir fry for a couple of minutes, coating the cauliflower thoroughly.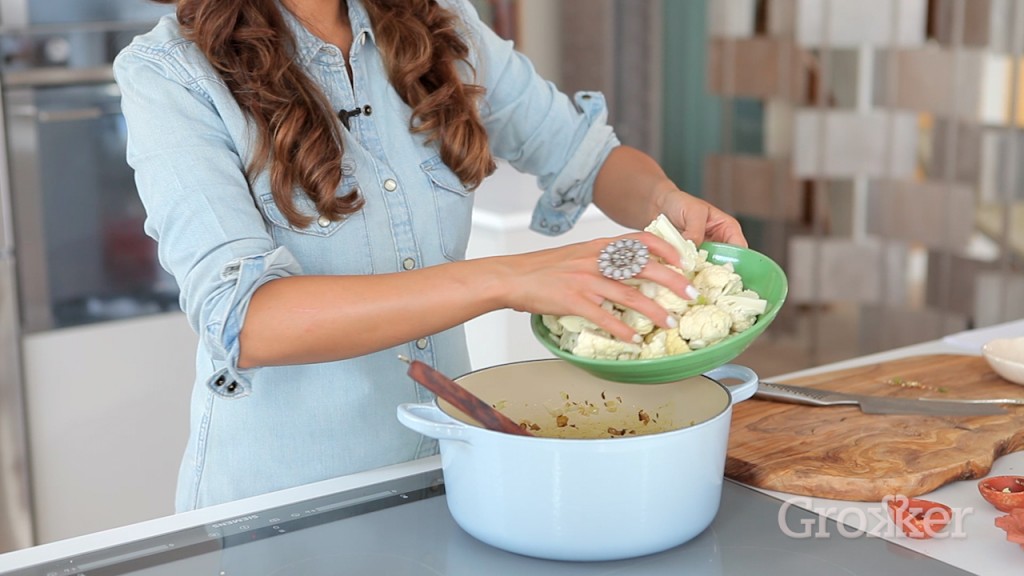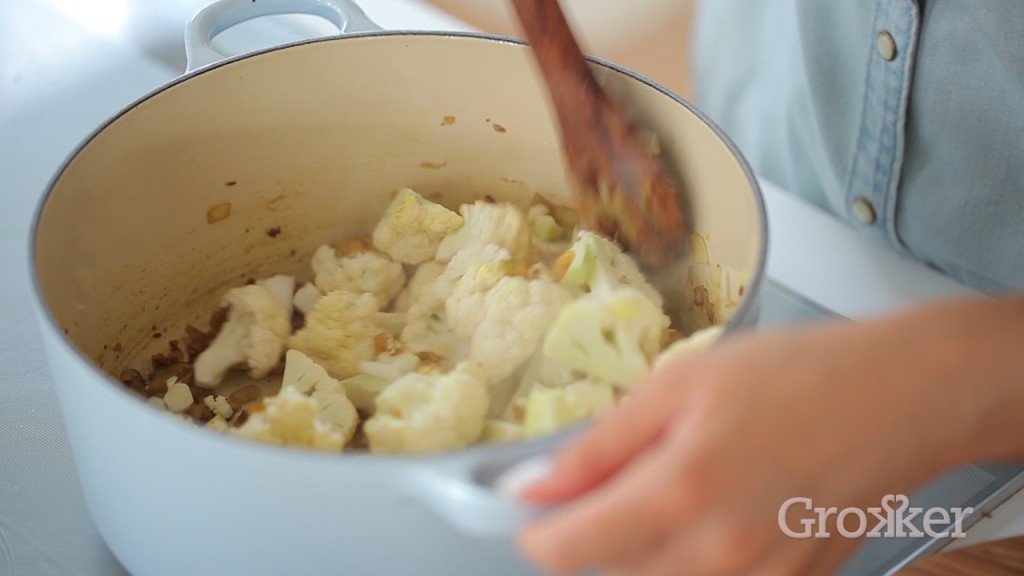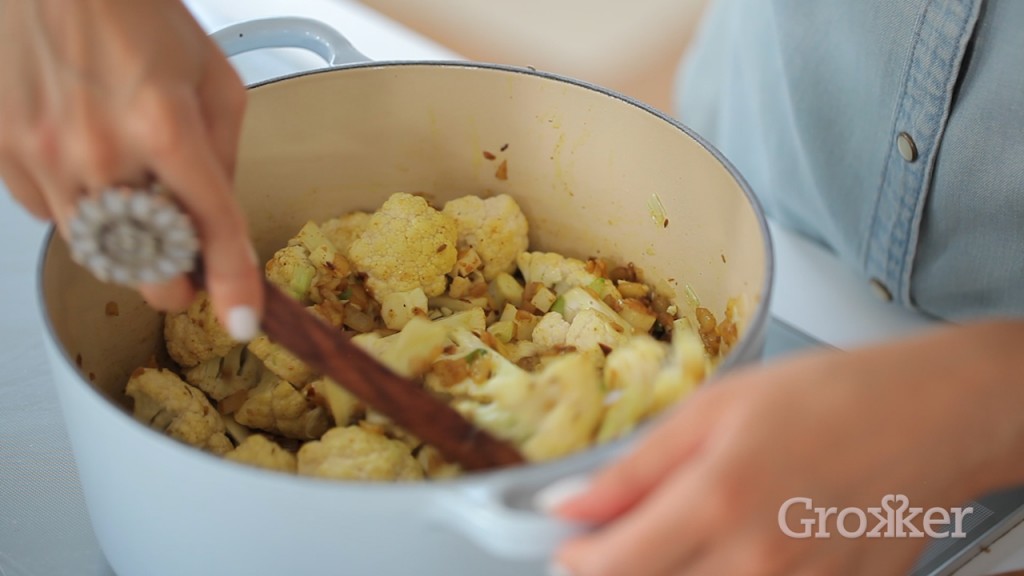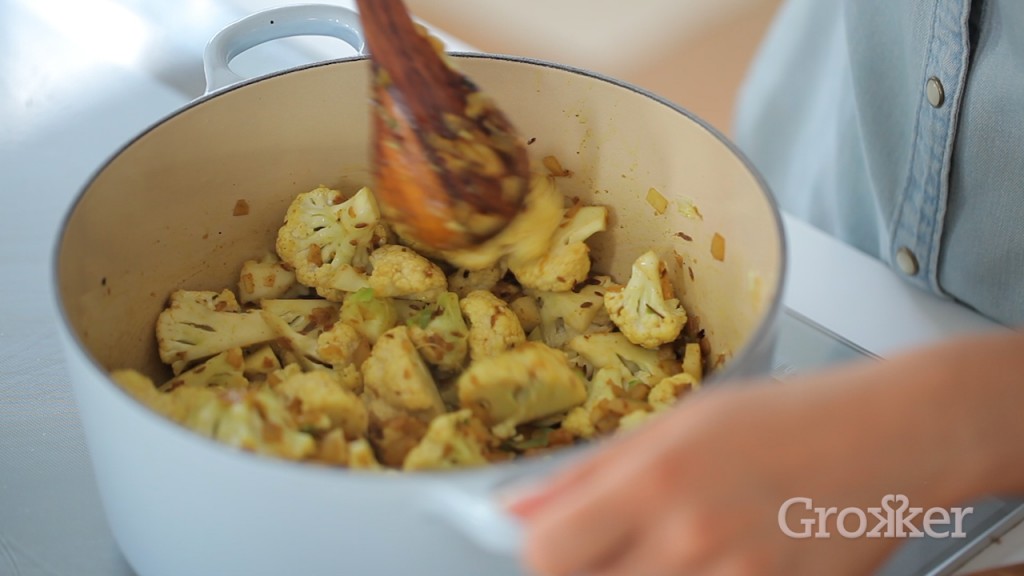 Add ¼ cup of water, stir well, cover and steam through on a very low heat for 15–20 minutes, checking occasionally that it is not sticking to the bottom. If so, add a splash of water and the steam will loosen it off.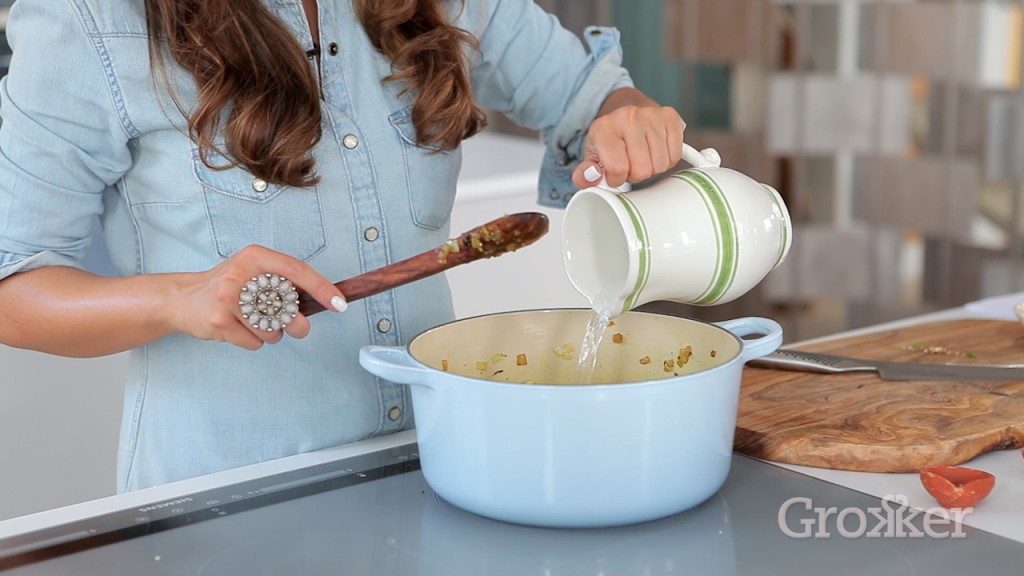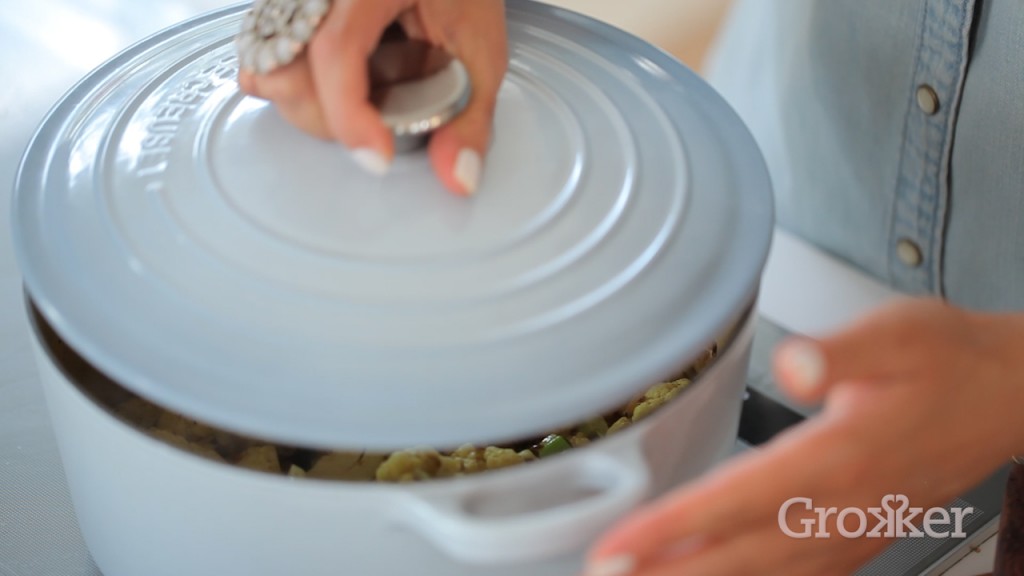 Serve with a knob of butter and a scattering of coriander.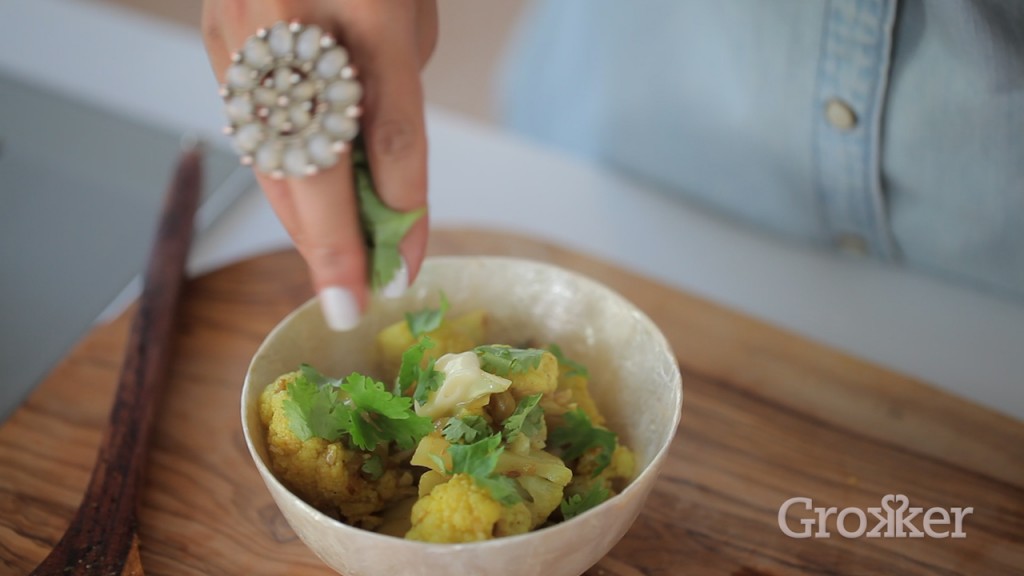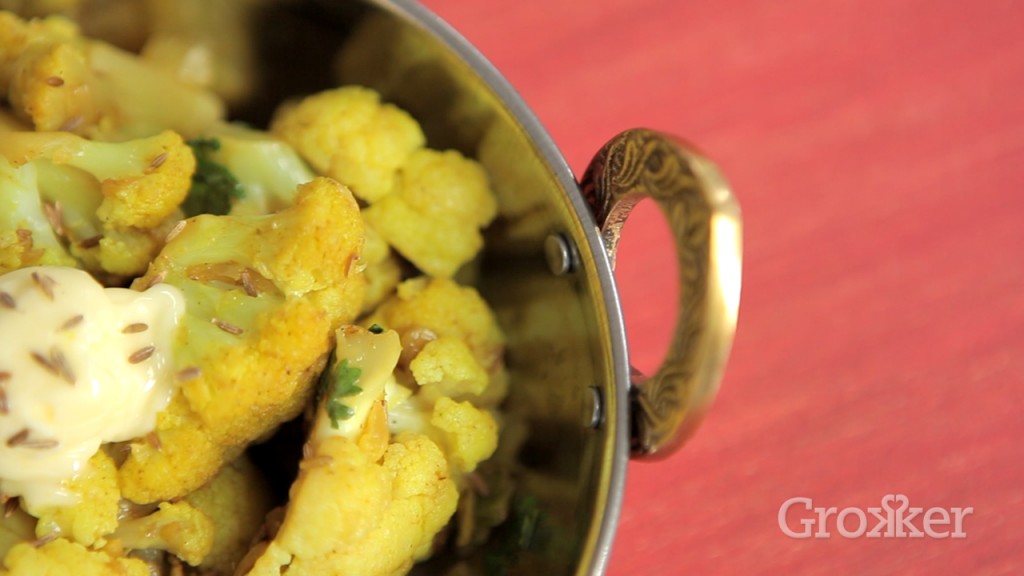 Ready to watch the video? Come here with me to watch me cook Gobi di Sabji for Grokker!