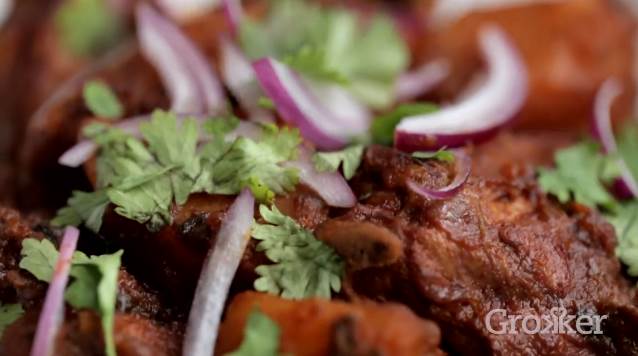 At this time of year I always get terribly homesick from having indulged in and chowed down as much of my family's cooking over the Christmas holidays as humanly possible, so there is nothing better for me to cook as a reminder of home than this very traditional and heart-warming Punjabi classic of tender meat cooked on the bone with creamy, soft potatoes soaking up the rich and shimmering caramelised onion and tomato sauce…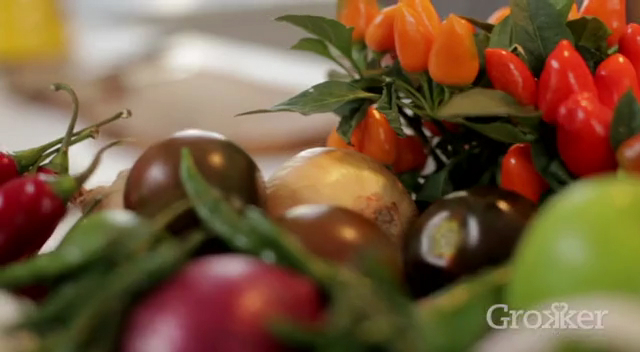 (thurh – i – vaala)
Chicken on the bone poached in a a caramelised onion and tomato sauce
This is a staple dish that I grew up with, one we would enjoy as a family on Saturday nights, with a lovely rice (flavoured with jeera, which is cumin, and vegetables)  as a combo simply called 'meat and chaul' and served with piping hot roti, vegetable side dish sabjia or dhal, cucumber raita, freshly cut salad and a good dose of zingy achaar.
My Dad would always make sure that, with the hustle and bustle of the week, endless work, homework and activities, that we sat down and ate a proper meal together come the weekend, although it was usually coupled with watching Gladiators and Blind Date. Good old Cilla Black. Being the '80's, it was also often followed by a Sarah Lee cheesecake, Wall's Vienetta or Arctic Roll…remember them?
In days gone by, both in India and when my parents were growing up in Britain, meat was often not eaten during the rest of the week, due to inavailability and then expense, so this Saturday meal was always a bit special, which made meat something a bit special, to look forward to and to cook for guests.
'Thari' means sauce and is traditionally often quite thin and broth-like in this dish, although you can thicken it up as you prefer just by adding less water or reducing it down. It is more like a chicken stew than what you would  think of as a 'curry' as the flavour comes from the caramelised onions, aromatic spices and all the umami goodness from the chicken flesh and bones.
This dish also uses one of our core techniques – the Punjabi tarka (pronounced tharkha, thurkha or thoorkha, with a hard 'th' sound) which we use at the beginning of and as the base for a lot of dishes. Therefore, you can use this base, (right up until you add the chicken), and instead use different meats, fish, pulses or vegetables that are suitable for the deep flavoured sauce, such as monkfish, aubergine, mushrooms, kidney beans or chickpeas, for example, bearing in mind that what makes the flavour even more intense is the the meat and bones.
You must allow enough time for the onions to fully caramelise down, that's extremely important, as is the 'raara' stage, where the onions, garlic, spices and flavourings cook down, with everything melting into each other, releasing flavours until the oil bubbles away in little beads and is integral to a sauce that is full of robust flavour.
You don't need to add potatoes, this is just a traditional coupling that I adore, and I have a massive moan when my father doesn't add them.
It is also a superb dish to cook beforehand and reheat the next day, whether on the hob or in the oven.
Serves 4
Ingredients:
2 tbsp oil – I like to use mild and light olive oil and you can use less oil if you prefer
1 large onion, finely chopped
1 garlic clove, finely chopped
2 tsp grated fresh ginger
2 green chillies, finely chopped
1½ tsp salt or less if you prefer
1 tsp ground turmeric
2 tsp garam masala
2 handfuls of chopped fresh cilantro
1 cup tinned chopped plum tomatoes, whizzed in a mini grinder / blender / processor until smooth – we use these as they are darker in colour and have a more intense flavour than fresh, which are hard to find ripe enough. Passata can also be used.
4 chicken thighs on the bone, or chicken drumsticks, or combination as you prefer; skinned and trimmed of excess fat
2 medium sized potatoes, peeled and quartered (optional)
½ red onion, finely sliced, to garnish (optional)
Heat the oil in a large saucepan and add the onions, frying until golden.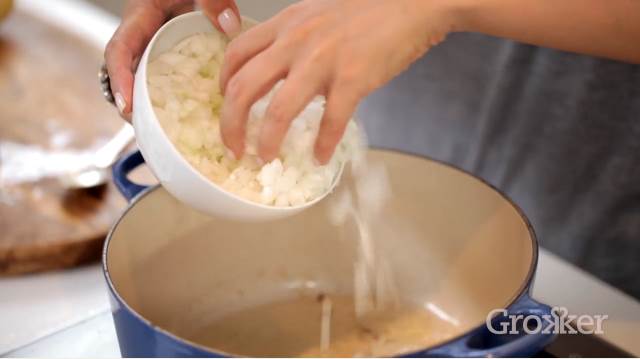 Add the garlic and continue to fry until a deep, golden brown. Large amounts of onion which are not cooked down like this can be difficult to digest, so this caramelisation breaks down the onions, releasing the sugars and gives a great, flavoursome base, plus a rich colour for the sauce (which is why we don't need colourings in Indian home cooking). Also, we cook the onions down darker for meat dishes than for vegetable dishes, as it can take the more intense flavour.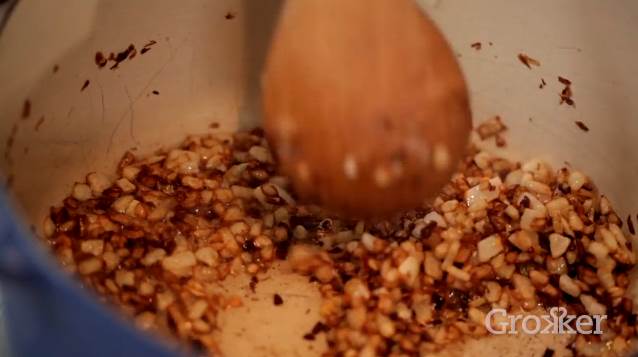 Turn the heat down a touch and add the ginger, chillies, salt, turmeric, garam masala and a handful of the coriander. Stir well and then, after about 30 seconds, take off the heat to allow the pan to cool a little, then add the tomatoes, to prevent it splashing back up.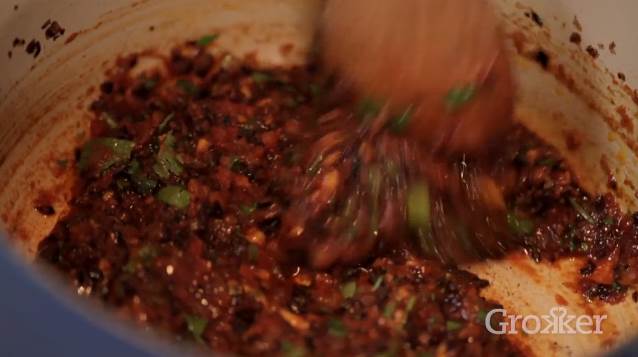 Stir and cook through on a very low heat for about 5 minutes or so, using the back of the spoon to frequently crush the onions into the tomato as much as possible. This is called the 'raara' stage, when everything is cooking down together and is important not to rush. Just add a little splash of water if anything starts to stick but you just want everything to gently cook down, the spices releasing their flavours and the onions, garlic and tomato softening into each other.
When the mixture has become shiny and the oil separates out in tiny beads from the rest of the mixture, add the chicken.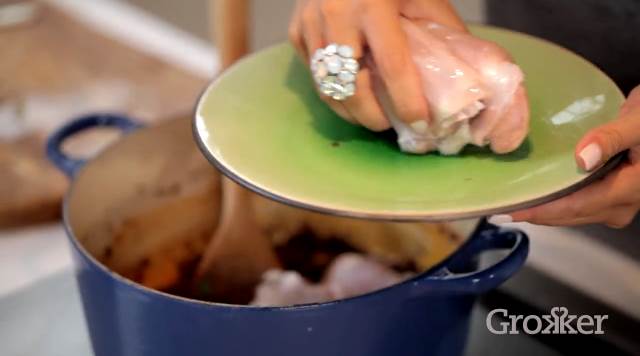 Coat well with the mixture. Turn the heat up and stir-fry for 5 minutes.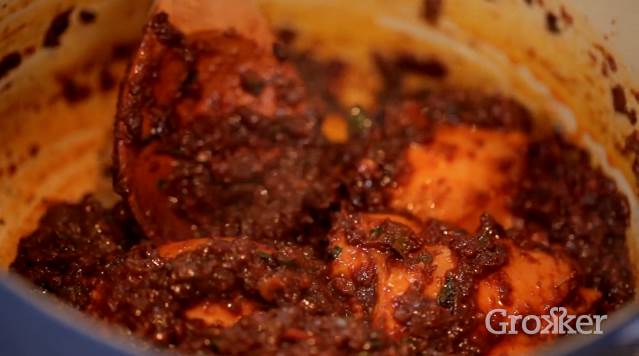 Add enough boiling water to just cover the chicken and bring back to the boil. Turn the heat down, partly cover and simmer for 10 minutes.
Add the potatoes, stirring gently, bring to the boil again and simmer with the lid on for 20 minutes or until the potatoes are cooked, checking after 10 minutes on the sauce consistency.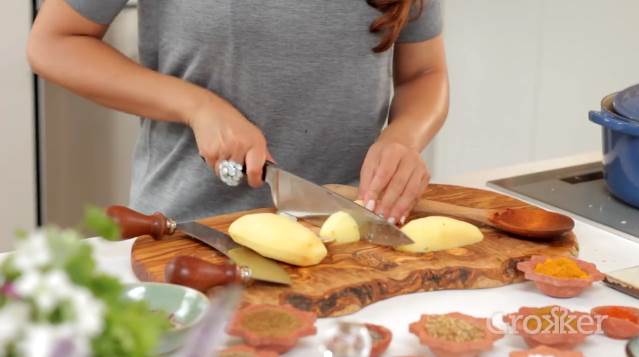 Add more boiling water if you'd like the sauce thinner or reduce down by boiling with the pan uncovered if you'd like it thicker.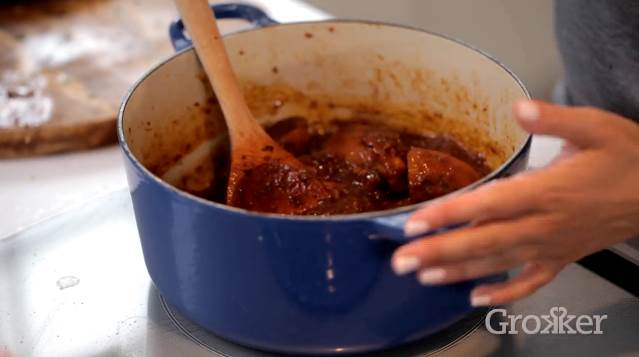 Sprinkle with the remaining coriander, and a little finely sliced red onion if you like, and serve.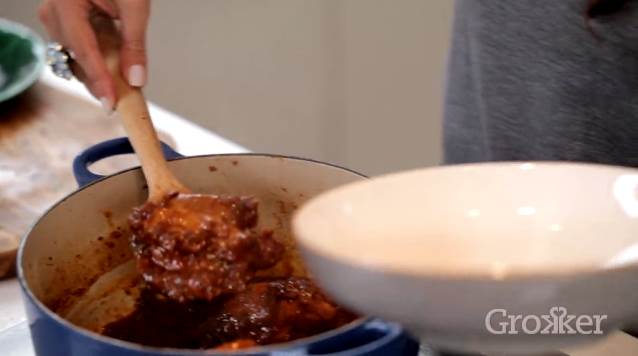 Come and watch the video of how to make this Thariwala Chicken on Grokker!